Peterborough Telegraph Awards Recognise Outstanding Achievements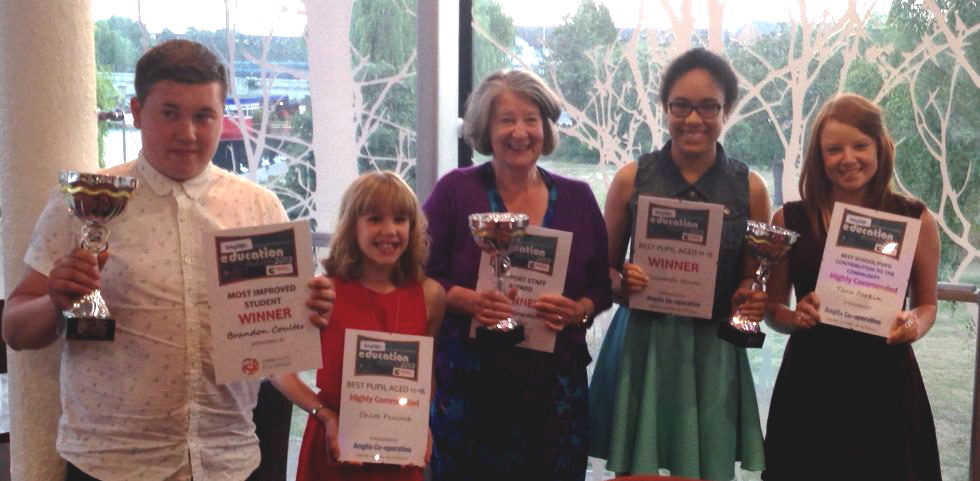 Last week, the Peterborough Evening Telegraph held their Education Awards. Local people were asked to nominate students and staff from schools in the local area. Great schooling achievements were recognised and Jack Hunt School had an excellent show of faces for the awards evening with 6 finalists across 5 categories.
Elizabeth Bowes was nominated in the Best Pupil Aged 11-16 by Mrs Simpson-Holley for training as a Communication Leader, observing staff and offering them feedback to improve learning and teaching, as well as being a Reading Buddy and designing lessons to deliver at local primary schools. Mrs Simpson-Holley added, "Elizabeth always has a smile on her face!"
Chloe Peacock was also nominated in this category as despite many complicated medical conditions she has always been a delight to teach. Outside of school, Chloe took up her passion, gymnastics and through hard work and dedication she is now at Squad Level and frequently competes. She has won many medals ending last year as Junior Club champion and is hoping to get into the County Squad this year. Not content with this, she has recently taken up Taekwondo and has just passed her first grading.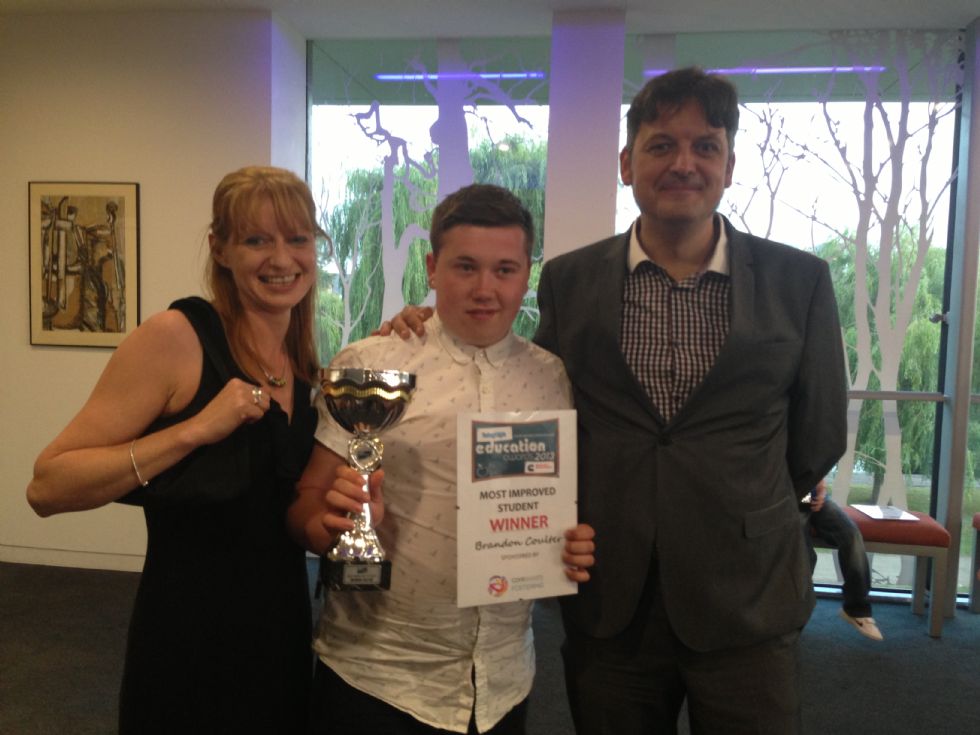 Brandon Coulter, was nominated for Most Improved Student by Mr Blant. He had found starting school a real struggle but with the support of staff along with his own self-belief has managed to achieve the government's target for schools of 5 A*-C including English and Maths. This is a great achievement for all young people - but for someone who has found growing up a struggle it is massive and deserves a pat on the back. Brandon's mum was especially proud of him and showed her appreciation of Brandon's teachers saying "I only gave birth to Brandon that was the easy part, Mr Blant and Mrs Hamilton made him into the person he is today."
The Jack Hunt PE Department nominated student Isaac Huskisson for Outstanding Sporting Achiever following his amazing athletic results. This year he smashed his personal best for the boys' hammer and won a competition for the discus. Isaac has now thrown the qualifying distance for English Schools Championships and hopes to be included in the Cambridgeshire Team.
Tara Forkin, a profoundly deaf student at Jack Hunt, received a nomination for Best School/Pupil Contribution to the Community. She completed British Sign Language levels 1, 2 and 3 within 2 years. The Level 3 course (equivalent to an A Level course) was completed during her GCSE studies. With mentoring from a deaf BSL tutor, Tara was offered a BSL teaching post despite her young age, only 17. Tara has also been a very active member of the local deaf children's charity for a number of years, joining their Youth Committee at the age of 15. She has been involved in various projects, including a Design Technology enterprise project creating and selling a range of promotional items. She also very courageously undertook a sky dive with two deaf peers just six weeks after her cochlear implant, raising over £4,000 for charity.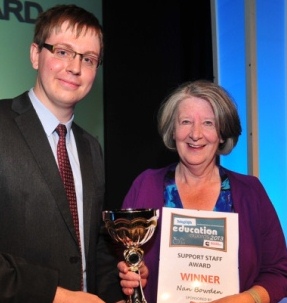 We also had a member of staff nominated for the Support Staff Award – Nan Bowden, Personal Assistant to the Headteacher. Nan has worked at the school for 28 years and, as well as working in other departments in the school, has been a fantastic Personal Assistant to 5 of the 6 Headteachers the school has had. She also supports our governing body as Clerk to the Governors and is Secretary of the Jack Hunt Community Learning Trust. Nan was nominated for the Award by Pamela Kilbey, who in her nomination spoke of Nan's' dedication to the learning outcomes for the students of the school; her commitment to the community which Jack Hunt School serves; her exemplary professionalism; support for all in the school and her much appreciated wise counsel.' She also mentioned that the school was very lucky to have the services and loyalty of such a long serving member of staff.
On the evening we were delighted to receive the news that Elizabeth Bowes, Brandon Coulter and Nan Bowden each won their category. We are incredibly proud of all those nominated and were pleased to see them being honoured by the wider community. A great achievement, well done to them all.