Profoundly Deaf Student Achieves Double Award Success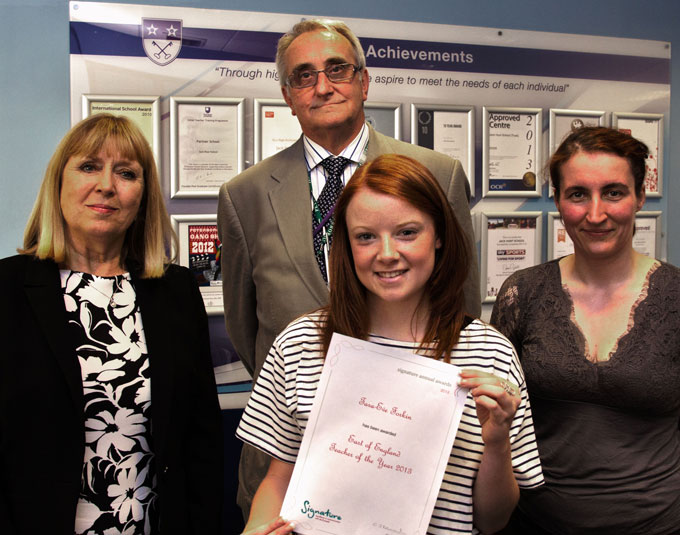 A Jack Hunt student has not only been named Signature's 'Young Learner of the Year' but has also picked up the East of England 'Teacher of the Year' award for her dedication to deaf studies and achievement in both learning and teaching others.
Having completed British Sign Language (BSL) levels 1, 2 and 3 within just two years alongside her GCSE studies, (level 3 being equivalent to an A Level course), Tara Forkin (18) was deemed the worthy winner of Signature's first ever regional 'Young Learner of the Year' award.
However the achievement didn't end here, aged just 17, Tara took on the role of teaching sign language at school, and after receiving mentoring from a deaf BSL tutor, was soon offered an official BSL teaching post. The teaching role required Tara to teach Signature Level 1 Award in BSL and Level 2 Certificate in BSL, but she also completed City and Guilds Preparing to Teach in the Lifelong Learning Sector qualification.
These impressive achievements combined, have resulted in Tara being commended in the East of England Teacher of the Year awards.
The Signature awards recognise those who, through their drive and enthusiasm, classroom commitment and high-quality teaching, have expanded provision, improved access to services for deaf people or achieved consistently outstanding results.
Pamela Kilbey, Headteacher of Jack Hunt School, said: "Tara received her first cochlear implant at just four-years-old, enabling her to enter the hearing world. In March 2012, Tara underwent a sequential cochlear implant operation, requiring her to listen through the new device and then learn to listen through the two together which is hugely challenging. Not only did Tara tackle this challenge head on, she also managed it on top of the demands of A level studies and being Deputy Head Girl."
"The level of pride we have for Tara really is immeasurable. It's not very often you meet someone with such ambition and ability and we have complete faith that these awards only signal the very start of her success story."
Over the years, Tara has been an active member of the local deaf children's charity, Peterborough and District Deaf Children's Society – PDDCS, joining its youth committee at the age of 15. She has been involved in various projects, in particular a deaf teaching enterprise project creating and selling a range of promotional items. Tara also raised over £4,000 for charity, by sky diving with two other deaf peers, just six weeks after her sequential cochlear implant operation.
From sky diving to learning to drive, nothing looks to be stopping Tara Forkin from living life to the full, and to top her two achievements she has now been shortlisted for Signature's national awards.
Teresa Quail, Lead Teacher of the Deaf at Jack Hunt School, said: "As a teacher of the deaf, I am pleased that Tara is a happy young lady who has found her voice and is confident to follow her dreams.
"She has made good use of the support she has had access to over her years in school. She has tackled different barriers and is learning how to overcome some obstacles in life. She is a confident role model who will inspire many; hearing and deaf alike."
Councillor John Holdich, Deputy Leader of the Council and Cabinet Member for Education, Skills and University, said: "Tara should be incredibly proud of what she has achieved for such a young age. Not only has she coped remarkably well with more than most people her own age should have to, she is also a shining example of how you can use your disadvantages to help others. I wish her the best of luck in the Signature's national awards and look forward to hearing of her future successes."
Tara is currently learning to drive and plans to attend university to study deaf studies in September.
The awards ceremony will take place in November. For more information about the awards, please visit: http://www.signature.org.uk/awards/index.php/page/display/9
By Caroline Sheffield