The Bionic Ear Roadshow Comes to School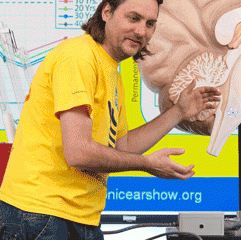 On Wednesday 2 October our Students were lucky enough receive a visit from the Bionic Ear Roadshow, an event arranged by the Lead Teacher of the Deaf, Miss Quail. The Roadshow raises awareness of the importance of hearing, how it can be damaged and what you can do to protect it. It is fun and communicates simple messages that can make a real difference to everyone's lives. Full of surprises and with lots of opportunities for audience participation, it also demonstrates the amazing structures that lie within our ears.
"The show was informative, interactive and engaging. I have not been looking after my ears properly. I am now going to turn my mp3 player down and carry a pair of ear plugs with me wherever I go". – Year 9 student.
"A delightful mixture of fun and laugher with scientific information and thoughtful elements. The children were involved with the show and amazed by some of the areas of the show". – Teacher
"Active listening is a vital aspect of communication for all individuals, especially in the learning environment of a school classroom. The show promoted hearing awareness as well as strategies to aid communication for those with hearing loss. The hearing screening was a bonus opportunity for personal care awareness for the sixth form students and staff, emphasising the danger of hearing damage induced by noise exposure. Within 15 minutes hair cells can be damaged i.e. hearing loss induced when listening to music on an mp3 player etc. at full volume. Human hair cells in the cochlea do not grow back. The recommendation is a maximum of 60% volume for a maximum of 60 minute period. The show was packed with informative advice. A must-see for individuals of all ages". – Lead Teacher of the Deaf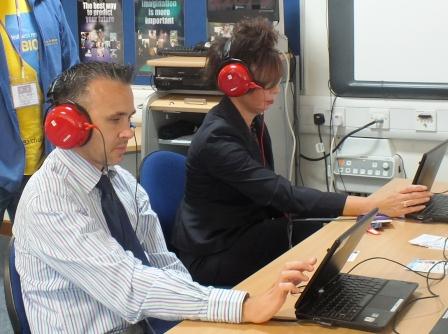 As part of Deafness Research UK's Bionic Ear Outreach Project, staff were offered a hearing screen to check their current level of hearing.
Hearing screening reinforces the importance of looking after the hearing and encourages regular checks for the same reason people have eye tests; to spot any problems while they are small and easily dealt with. The screening takes roughly 15 minutes per person.
Each person screened received a full breakdown of the results, which will indicate whether there is any sign of hearing loss and whether they should visit their GP.
'It was well worth spending 15 minutes getting my hearing checked; the advice was helpful and I felt reassured that some deterioration of hearing was perfectly natural as we mature!' said one member of staff.
For more information call The Bionic Ear Show on 020 7296 8072 , email bionicearshow@deafnessresearch.org.uk or visit http://www.bionicearshow.org/