Pupil Wins National Award for GCSE Success While Fighting Severe Illness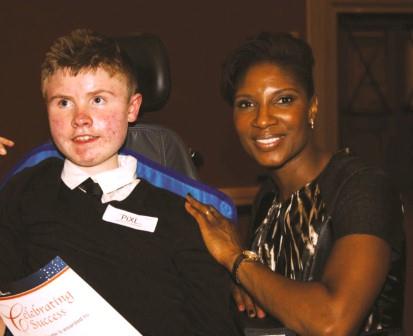 Jack Hunt School pupil Matthew Purdy (16) was extremely proud to receive a special award at the annual PiXL Club award's ceremony, held at Central Hall, Westminster, London. Matthew was presented with the award by Olympic gold medallist Denise Lewis OBE.
The PiXL Club is a national organisation of more than 600 secondary schools who have collaborated together to help each other raise attainment for every pupil they teach. The awards ceremony recognises the achievement of every school but has one special award for a student who has overcome particularly challenging personal circumstances.
Matthew has Duchenne muscular dystrophy (DMD), a degenerative muscle wasting condition which means he has a very limited ability to carry out everyday tasks without support. He uses a specially adapted electric wheelchair to get around, and a hoist to move in and out of his wheelchair.
This summer, Matthew, a lifelong fan of West Ham United, was presented with a signed photograph of the West Ham squad at the year 11 leaving assembly. He was given a standing ovation by his peers in recognition of his hard work.
Matthew's condition meant he had to surmount considerable obstacles, but still managed to achieve 9 GCSEs at grade C or above and is now a thriving member of the school's sixth form where he is studying AS-levels in mathematics, economics and business studies.
Pamela Kilbey, Headteacher of Jack Hunt School, said: "Matthew is an inspiration to everyone at Jack Hunt School. He is bright, industrious, and uses his excellent sense of humour to face up to his challenges without complaining; ensuring that he always tries his best and remains very positive.
"Matthew's attitude has always been that if he is to do something he will want to do it to the best of his ability. If he has been off ill or had to attend hospital appointments he has been more than willing to stay after school to complete his work or go in on a Saturday to catch up."
Matthew suffered with chest infections right up until the summer examination period when he had to withdraw from an English exam because he was so exhausted and was struggling to breathe following a major spinal operation in March at Great Ormand Street Hospital. Despite this he managed to achieve grade C at English.
Matthew has not only worked tirelessly at his studies, a keen sports fan, Matthew has represented Jack Hunt School in both pentathlon and boccia. He was a key member of the boccia team which won a bronze medal at the regional finals.
At the end of Year 11, Matthew took part in the 'Inspire' film project along with other students from Jack Hunt School's Learning Support Department. He was heavily involved in the film's direction, script writing and editing.
Councillor John Holdich, Deputy Leader of the Council and Cabinet Member for Education, Skills and University, said: "Matthew is both incredibly brave and talented. He should be very proud of his achievements and this PiXL Club award is testament to his continued hard work throughout his time at Jack Hunt School. I wish Matthew all the very best with his sixth form studies."
- For further information on The PiXL Club please visit www.pixl.org.uk