Local 'Secret Millionaire' Inspires and Motivates Year 11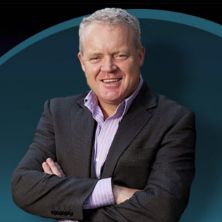 On Monday 6 January, Year 11 students were invited to listen to and meet local 'Secret Millionaire' Mike Greene. He was invited to talk to students following the recent mock exams to help motivate and inspire them on the long road ahead studying for the GCSEs they will take in the summer term.
Brought up in Bretton, Mike Greene became a successful businessman but lost it all only to start again, learning from his mistakes to become even more successful. His dedication to helping others was recognised in 2011 when he was asked to be one of Channel 4's Secret Millionaires. In the programme, he returned to Peterborough to find local charities to help, but also talked about his difficult childhood and the impact of the paper shop owner who believed in him, became his mentor and inspired him to believe in himself and achieve the success he now enjoys. This was a turning point for Mike Greene leading him to make a life changing decision - to spend more time with his family, and dedicate more time to charity work. Mike now supports over 100 charities locally and thousands nationally, working primarily with localgiving.com and CCF (Cambridge Community Foundation).
As well as being a successful businessman, Mike also dedicates his time to sharing his extensive knowledge and experience as a regular conference speaker and acting as a mentor to several leading companies and individuals. In addition, he has recently completed two books in collaboration with a leading biographical and business writer – 'Failure Breeds Success' which looks at how from the moment we are born we learn from our mistakes (failures) and 'Into the Eye of the Storm' following his training for the 2013/14 Clipper Round the World Yacht Race.
Mike spoke to the students about his life, the important role the newspaper shop owner played as his mentor and his success and failures in business, including how having had the taste of success with the help of his mentor he believed he could achieve it again through hard work and by learning from his mistakes.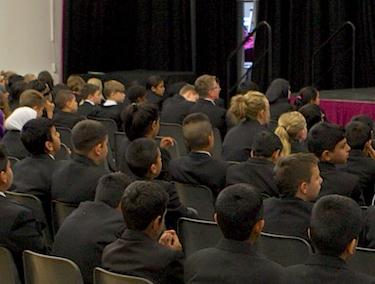 Mike was very well received by the students who found him "Really inspiring and easy to relate to especially because he is from the same area as us." Other comments included "I learnt that tiny decisions can make a big change." He told students that it only takes one person to believe in you - even if it is a teacher – and that they should believe them and use that belief to help them believe in themselves.
Brandon Bradley said, "He was inspirational and underlined that it doesn't matter where you come from, you can still be successful. If you have failed then to look back, know where you made mistakes, make changes and keep going. Brandon continued, "It was brilliant the way he is not selfish with his money and reaches out to help people, giving back to the local community."
Another student, Nosherwan Tariq said "He was an inspirational man and one of the best speakers I have heard. His talk really gave me a boost after my mock results and, because he is a local 'lad' and came across as very down to earth, everyone could relate to him."
Nicole Rooke said "I was a bit down after my mock results and this was really motivating. It was nice to have someone you could relate to, because they grew up in the same area as you, to come and speak to you – it really sticks in your mind. He gave some really good advice about taking time to step back and think – even if it seems a big problem to you, you can do something to change it, take control of the situation and make the changes."
Mrs Simpson-Holley, Deputy Headteacher who arranged Mike Greene's visit said "We were delighted that the students had this fantastic opportunity to listen to Mike, his talk was really inspirational and we hope it motivates our students on the long road ahead to the GCSE exams. We would like to thank him for his time and the kind donation of copies of his book for our library. We have already had a number of students requesting to read it. We hope that he will be available to do this again with future GCSE students."