Students Bring Magic to School Production

Long before High School Musical, Glee, The X-Factor and countless other fictional and reality TV programmes explored and exploited our fascination with instant celebrity, there was FAME!
Few who were young in the eighties (and plenty who weren't) can resist joining in the refrain, "Fame! I'm gonna live forever. I'm gonna learn how to fly – high!"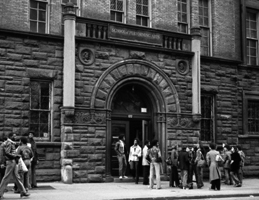 Fame - The Musical describes the bittersweet journey of a diverse group of students as they live through four years (1980-1984) of gruelling artistic and academic work - the last to graduate from New York City's celebrated High School for the Performing Arts on West 46th Street before the school was moved to new premises in the Lincoln Center. The show explores ever-relevant issues of prejudice, identity and self-worth, as well as of friendship, resilience and perseverance.
Our young performers have certainly modelled the latter three qualities. The rocky road from casting to performance was a lot bumpier this year than I have ever previously experienced. Throughout November and December, when rehearsals should have been in full swing, staff and students saw a massive increase in commitments to learning, teaching and coaching beyond the school day. Between the Christmas Concert and the end of term, thanks to the dedication and hard work of music staff, the cast had learned most of the solo songs, though none of the big choral numbers – and we had had one Sunday morning read-through of the script. That was it!
At that point, I have to admit, there were several moments when I came very close to suggesting that we leave the show for a year…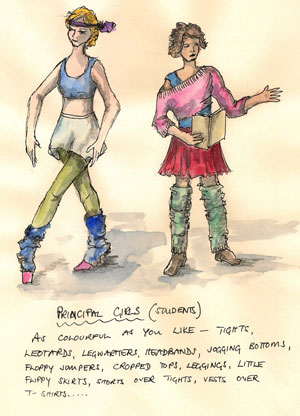 Not long before the end of the Christmas term, Patch Tate, creative audio-visual technician, and Gareth Keber, skilled set designer and builder, came up with the vision of a simple set which would be subtly but magically transformed by a more complex lighting design than we had ever had before. Around the same time, Elaine Harburn, our wonderful costume designer and wardrobe mistress, had sent in her beautiful designs. Visiting the music department, I'd overheard a number of this year's cast quietly practising their songs on their own – and, less quietly, 'Lambchops' teaching herself to play the drums! Then, the evening before we broke up, members of last year's cast of Les Misérables moved and delighted those attending Presentation Evening with a surprise performance of One Day More.
All that creativity and talent and dedication! Missing a year was no longer an option…
This meant that, on top of the demands of the normal school day, the period from our return in January was one of intensive, demanding rehearsals in singing, dance and dialogue: six days a week, lunch times, after school often till 6 or 7 p.m. and all day on Sundays. Performers and staff who were also involved in Saturday Schools had maybe one or two days off throughout those 4½ weeks.
Friendship, resilience and perseverance: these were indispensable for all members of cast and production team alike, along with patience, tolerance, honesty and an all-embracing, merciless shared sense of humour!
The inter-dependent nature of any enterprise such as a major school production brings out (or drags out, in some cases) the best in us all. Performance demands not only lots of time, dedication and a steely determination to stick it out, but also the willingness to take personal risks, to put yourself on the line. This we demanded and this we witnessed, day after long day, right up to performance week.
No one can ever explain quite what happens over the final weekend that transforms a raggedy run-through into a cohesive and focused performance. Maybe it's the lighting or the sound, maybe the costumes, hair and make-up. Or perhaps it's just that everyone understands simultaneously what this performance lark is all about. Whatever it is, it's the closest thing to magic that I have ever witnessed – and it happens every year.
Once again, as I never tire of saying, each one of us in the production team is proud to be associated with this wonderfully talented and spirited group of young people.
Bring on tomorrow!
Mrs Keber, Director