Deep Learning Day – "Thank you for a lovely school!"
Thursday 20th March was our second Deep Learning Day this year. Find out what students across the school got up to: Travelling the globe? Learning a new sport? Analysing Shakespeare? or thinking about the diverse communities they are part of? The activities for each group of students were aimed at allowing them to use skills from across the curriculum to complete their tasks in a fun and interactive way.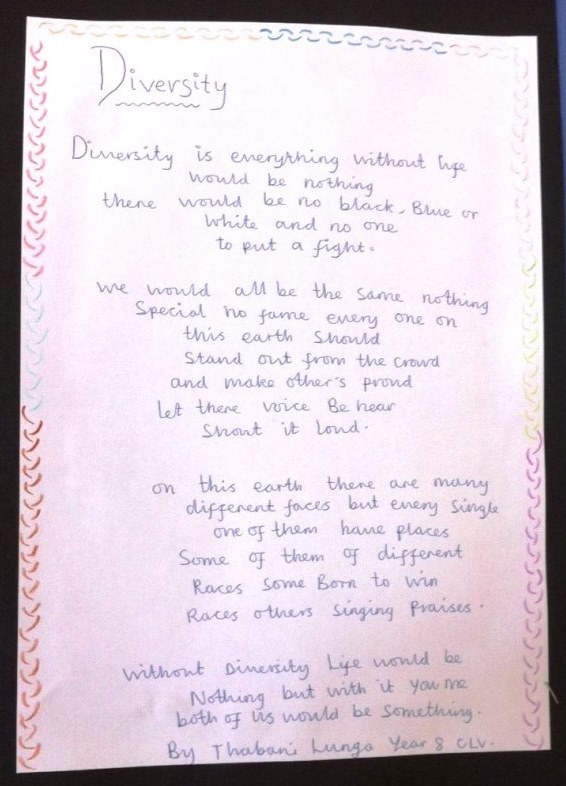 The theme for year 7 & 8 was "Being Different, Belonging Together'. They began the day watching a video of fellow students introducing themselves in no less than 16 of the many languages spoken at Jack Hunt School. They were asked to guess the languages spoken, sparking lots of conversations about where everyone comes from whilst marking out where the languages originated on the world map.
As the day moved on, the students found themselves mapping the data they had gathered about where in the world our students come from, solving riddles and translating clues to solve puzzles. They also spent time looking at a poem about diversity and used this as inspiration to make their own videos entitled 'Diversity is a Good Thing' as well as writing their own poetry.
Mrs McQuillan was bowled over by the work her students did especially mentioning this poem written by Thbani Lunga in year 8 which really sums up the importance of diversity.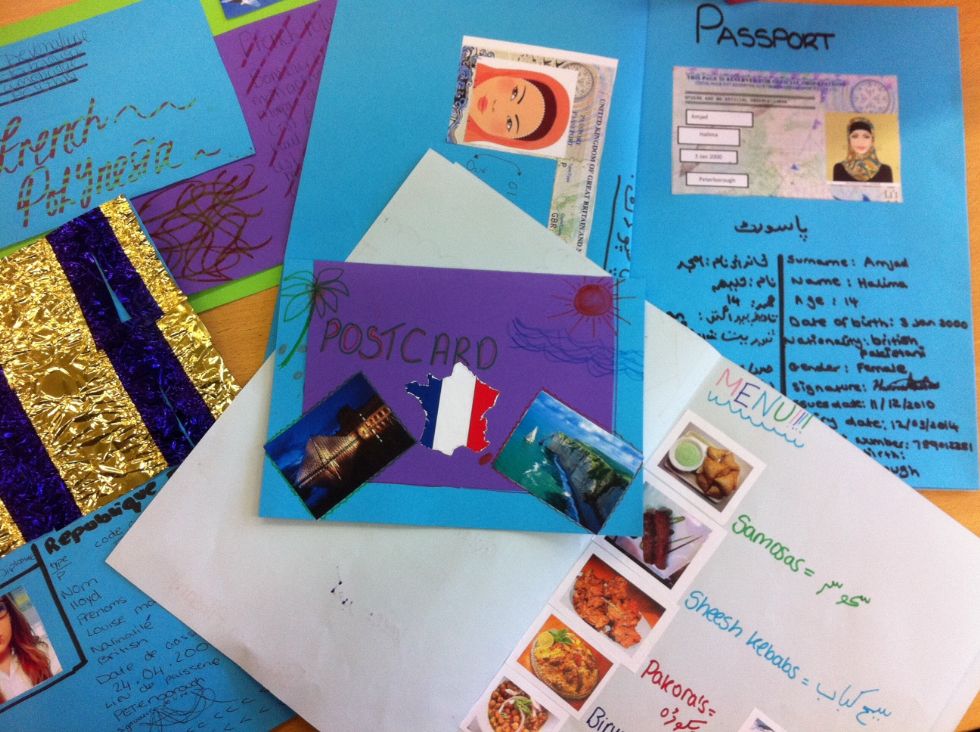 Year 9 were split between our two Specialist subjects, Languages and Sport. The language groups were transported to France, Spain & Pakistan with activities designed to embed their language skills through practical activities. Having created their own passports and phrase books, they booked themselves into hotels, ate out in a restaurant and popped to the post office!
The fun and interactive activities seem to have the desired effect with students telling their teachers, "It was great! I revised lots of useful phrases", "It was like going on an imaginary holiday!", "I loved the French food" and "I feel more confident speaking about myself and others"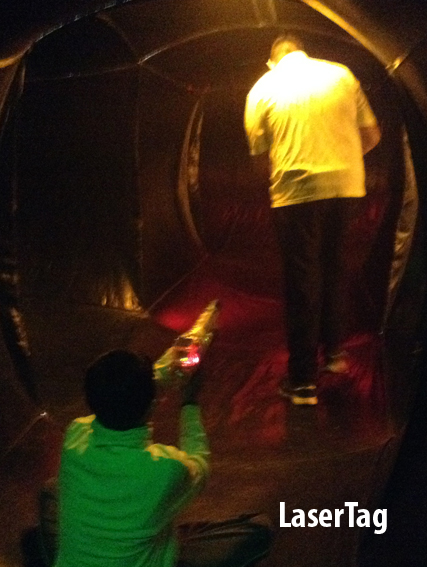 In PE, year 9 students tested their fitness and analysed the results, they used GPS to orienteer around the school site and they also got to try their hand at some unusual sports including Boccia, Cycling and seated Volleyball plus, an inflatable Laser Tag arena was erected on the school playing field where teams of students completed against each other.
As with most of our Deep Learning Day Activities, this sounds like a whole lot of fun but it's amazing how much you learn when you are enjoying yourself! The aim of the day was to prepare PE & Dance students as they move towards year 10, giving them a head start and focusing on the skills they need to be more analytical in their approach to their subject.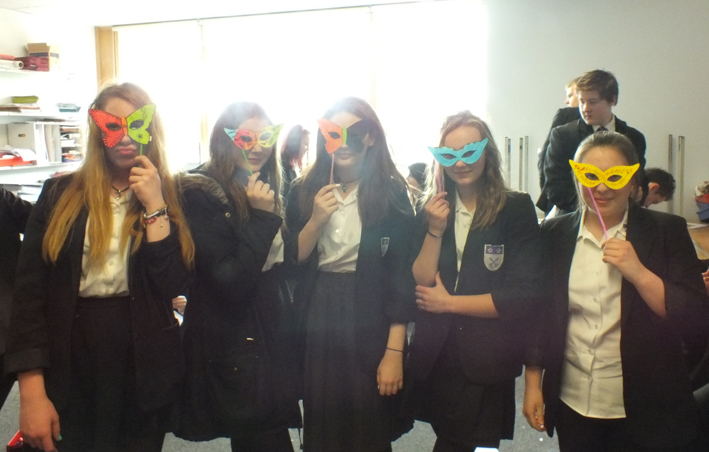 Around two-thirds of year 10 spent their time immersed in Shakespeare's Romeo & Juliet. They were treated to a performance by modern theatre company 'Box Clever' who used modern language to depict the famous brawl between the Montagues & Capulets which opens the play. Students explored the 'Party Scene', making masks to help them understand the characters and used the schools' Drama Theatre, working in groups to analyse how the character of Romeo changes as the play goes on, leading him to demand revenge. They also looked at the deaths of the main characters, carrying out an in-depth CSI style investigation, interviewing other characters from the story, played by their teachers.
One teacher commented that "Box Clever set an excellent, upbeat tone for the day. Students were very well behaved and were engaged in all the activities. They were enthusiastic about Romeo & Juliet and learnt loads about the plot, characters and themes."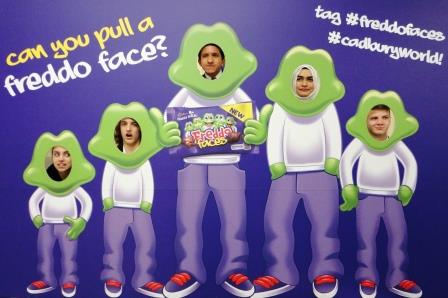 Another group of year 10 students headed to Cadbury's World for a business studies day. They took a tour of the factory to find out how it operates and along the way they had a chance to taste chocolate and watched a demonstration of how the handmade chocolate is made. They also had a 45 minute presentation about marketing and the history of advertising at Cadbury's.
Year 11 are in the run up to their GCSE exams so for them it was an opportunity to really focus on revision and embedding knowledge. They had a visit from Live 'n' Learn who provide workshops aimed at inspiring confidence in young people by encouraging them to take responsibility for their study. The students learned about tools for effective and independent study, time management techniques and how to set themselves up with the right attitude for revision. They also talked about dealing with the stress of exams.
As well as this, the science department also set up a fantastic day of practical experimentation for year 11. This was a great chance for them to put their learning in to practice and consolidate their understanding. There were a multitude of experiments taking place from creating circuits in Physics to emulsification in Chemistry and students relished the opportunity to get really hands on.
Feedback from students in science was really positive, one student said "It was a good session with good practicals, all the information was easy to understand and it is better than copying out of a book!"
Overall the day was another resounding success. Assistant Headteacher, Mr Barwise said "Organising Deep Learning Day, takes a lot of hard work by all staff, but the students get so much out of it and enjoy the opportunity to try new activities."
Headteacher Mrs Kilbey felt that the words of one boy summed up the feeling of students when he said simply "Thank you for a lovely school", another student told their teacher that this had been "The best Deep Learning Day Ever!"