Lessons from Auschwitz
Year 12 students Kia Welch and Alana Turner, also members of the 'Pledge Against Prejudice' team have been taking part in the Lessons from Auschwitz Project, organised and run by the Holocaust Educational Trust. The course designed for 16-18 year olds involves attending two seminars in London and a day trip to the Auschwitz-Birkenau Internment Camp, to enhance their understanding of the impact of the Holocaust and to encourage them to share the lessons learnt with fellow students and in the community.
Kia and Alana, together with Miss Steward, History Teacher were able to visit pre-war Auschwitz including the site of the Great Synagogue as well as the internment camps. During their visit they were able to experience the conditions the inmates lived in and visit the gas chambers. A Remembrance Service was held at the end of the day where each student was able to light a candle in a quiet reflective moment thinking about the sights they had seen during the day. The students were able to witness the events that happened to those that were persecuted and gain an appreciation of the scale of the Holocaust.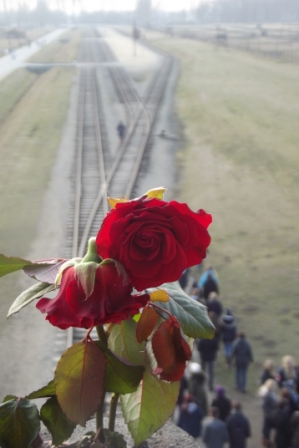 Following the trip, Kia wrote: "Words cannot fully do justice for some of the things I saw and heard at Auschwitz. It was an insightful and eye-opening experience to see what the people had to go through and what was done to them was heartbreaking. Millions of people murdered for believing in what makes them happy is truly devastating and it is difficult to comprehend why it happened to them and continues to happen today. I think the most memorable moment was when Rabbi Marcus sang a Hebrew prayer and how eerie and chilling it was to be in a place you'd learnt so much about. I'll never forget this for the rest of my life. I'm so glad I had the opportunity to go."
Since returning to school the students have been reflecting on what they saw and thinking of ways to share their knowledge and experience to help others understand the Holocaust, and to continue to spread the messages learnt from the Holocaust to promote Pledge Against Prejudice.