Local Deaf Blind Artist Inspires Students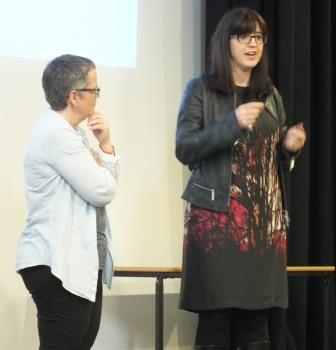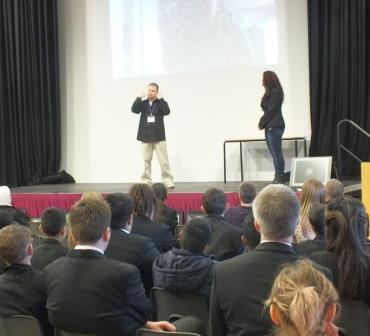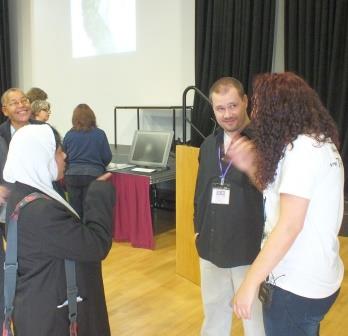 In recognition of Deaf Awareness Week, students have been receiving presentations in House Assemblies to give them an understanding of deafness and to help them realise that whilst hearing aids help, deaf people still have to overcome major issues when using them. Deaf Aware Teaching Assistant Nicki Sanders spoke about what it means to be deaf and the different forms of deafness. Other members of staff including Mrs Larrington, from Learning Support and Mrs McQuillan also took part explaining what it was like being deaf and the type of hearing aids they have.
The week of presentations ended with a visit from inspiring and talented deaf blind artist (Jamie) Lloyd McCullough who talked about growing up, suffering from Usher's Syndrome and his deteriorating sight. He suffers from night blindness, cannot see facial expressions and what he sees depends on the light around. He used photographs and computer technology to illustrate what he can see. Jamie talked about how recent operations and failing sight has affected his confidence and the way his art has helped him.
Growing up he loved art and spent a lot of time drawing and painting, qualifying from University with a degree in Art. He originally created acrylic art but with his deteriorating sight he increasingly uses computer software packages to paint with. As well as showing some of his art, he explained the thought process behind the pieces and that it can take anything from one day to three weeks to create. Jamie, who lives in Cambridge, uses the professional name Lloyd McCullough and is currently working on pieces for an exhibition he is planning with the Deaf Blind charity Sense.
Head of House, Mr Keber said "It was an amazing presentation considering this was the first time Jamie had presented at a secondary school. Jamie was truly inspiring and the students were really impressed by him."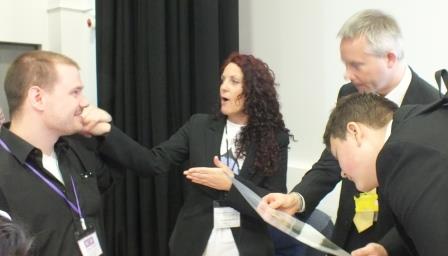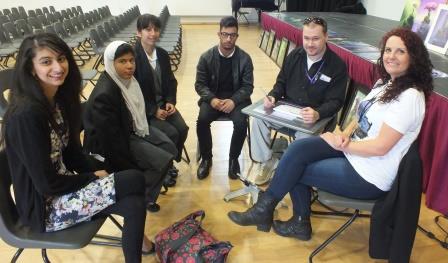 In the afternoon Jamie was joined by students from ERHPS (Enhanced Resource Provision for Hearing Support) so he could demonstrate how he uses the computer technology to create his artwork, using a piece he is currently working on. He showed how he changes the screen format so text and detail is on a black background.
One of the students, Naima Suge Yr 12 said:
"I had no idea that someone who was blind as well as deaf could produce such amazing art! Wow – it blew me away! And the technology he used to make his pictures was incredible. It has really got me thinking that if you really want to achieve success you knock down barriers." Another, Naila Bibi Year 10, added "I can't believe he is doing such amazing work! It made me so, so happy to see his artwork."
Year 11 student, Calum Daly, who is also deaf commented:
"I think his artwork is wondrous and amazing. Every time I see it I think 'Wow!' And knowing that he is blind as well as being deaf makes it even more amazing."
Following the presentation Mrs Taylor's class wrote down how Jamie had inspired them and these are just some of their comments:
"It shows you can do what you want with life even if you have a disability. He was brave to come and present his work in front of people that he couldn't see." Olly Oakley, Yr 8
"It was amazing and inspirational talk….he showed that we make excuses on giving up ….but the reality is that he's deaf and blind and he is not giving up his dreams of being an artist." Faizan Nisar, Yr 9
"It was beautiful and inspiring because it shows that he is blind and deaf but you can still see what he can achieve so we can see that we're normal and that we have a chance. " Taiyub Tariq, Year 9
"It proves you can do lots of things even though you are blind or deaf." Abdur Raheem Yr7
"He was inspiring because he showed us how he overcame his weaknesses to do what he loved." Stephen Miller, Yr 9
"He was very inspirational and very confident towards his passion. It was really moving and helpful. No matter what, he is still successful." Zafirah Ijaz, Yr 10
"His art is lovely and fantastic, but I mainly love how he is deaf and blind and does that." Antony Cassar, Yr 9
"He is an inspiration to young adults. He portrayed a message of no matter what don't give up on your dreams" Martynas Sasnauskas, Yr 10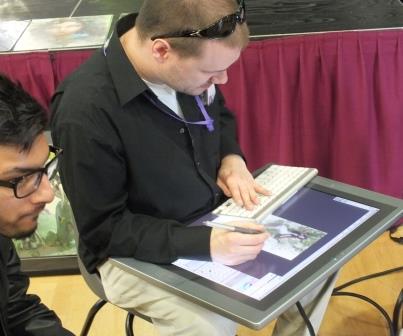 "The art that Jamie did was amazing. I didn't know that someone who was partially blind and deaf could produce such great artwork. He kind of told us not to give up what you are doing and try your best in what you do." Jenis Joy Yr 7
"He was blind and deaf and produced great artwork. He also came into do a presentation which was new to him because he is shy rarely but he has started to grow in confidence which shows no matter whether you are deaf, blind or both you can do it. And he is inspirational for what he does." Mohammed Adil
To find out more about Jamie Lloyd McCullough click here...