Farewell Celebrations for Year 13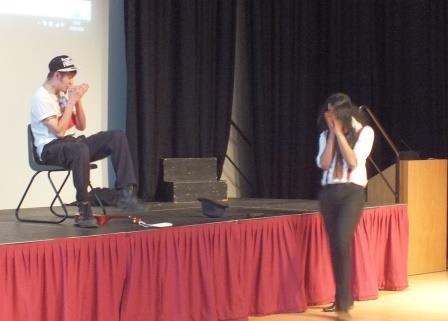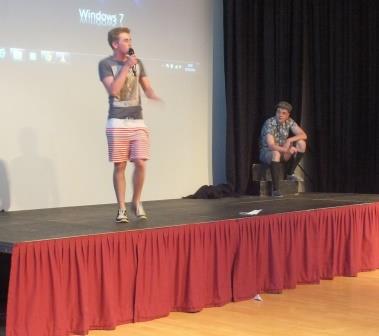 The farewell celebrations have started with the Year 13's assembly, before they sit their final exams. The students started celebrations by coming into school in fancy dress – there was a complete set of Disney Princesses including Rapunzel, Jasmine, Ariel and Sleeping Beauty, a group of gangsters, Elves from the Lord of the Rings and few boys dressed up as ladies including a Claire Balding look-a-like!
Head Prefects lead the show having organised the entertainment which included a performance by Kyle Medcalf and Gavin Manning, Marshall Wang shared a selection of his favourite music on the piano and the finale featured Tomek Gogol on the ukulele accompanying Harpreet Singh (Vinnie).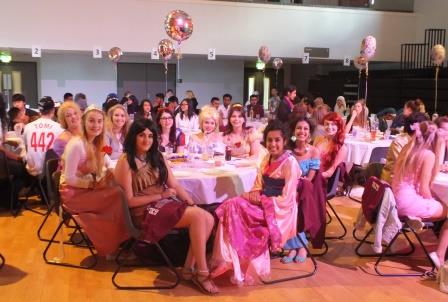 There were the annual awards voted for by the students which included Matt Newton winning 'Most Likely to be Prime Minister', Lianne Jones not surprisingly winning 'Most Sporty' , Tomek Gogol being awarded the 'Most Caring' and Marshall Wang receiving the 'Best in Music' award.
The assembly enjoyed a farewell video created and edited by the students, which featured members of staff performing to "Happy" by Pharrell Williams and offering their words of wisdom for the future. Head of Business, Mr Zaman offered this pearl of wisdom he had found on the internet "There are three types of people in life. Those who wondered what happened, those who let things happen and those who make things happen – make sure you are members of those who make things happen – I know you will…" Mr Fricker, head of Sixth Form, wished the students the very best of luck saying "It is the End of the Road here but your journey continues… we are very proud of what you are going on to do."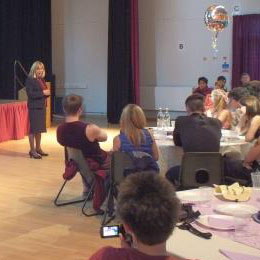 The students were also treated to a comedy video made by staff with the help of Mr Roberts based around air travel, wishing them all the best on their journey from the crew of 'Teach Air'.
Bringing the assembly to a close, Headteacher, Mrs Kilbey joined Mr Fricker in praising Year 13 for the commitment and hardwork they have demonstrated during their time at Jack Hunt, wishing them all the best for the future wherever they are going.
For more pictures from the day, have a look at the
Gallery