Yr 10 Student Wins Sporting Achievement Award
The Peterborough Evening Telegraph Education Awards, which recognises all achievements in all areas of education, was held on Monday 15 September at the Key Theatre.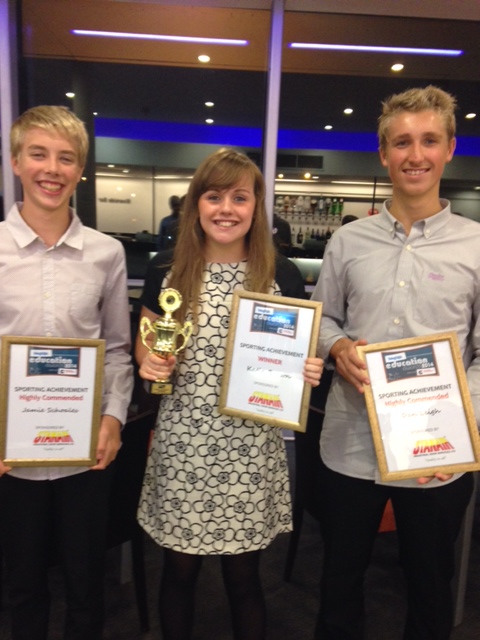 The Sporting Achievement award, sponsored by Stanair was dominated by swimmers and the category was won by Jack Hunt student Katie Brown (Year 10). Miss Jeal, Head of PE, who nominated her said: "Katie is an outstanding student and fantastic sportswoman. She is striving to do her best and achieve her full potential in swimming. She is a dedicated and hardworking athlete. The number of hours she trains is incredible. Katie won gold medals in all of her individual events at the County Championships in March and won top 14 year old girl overall."
At the Regional Championships in June she won gold medals in four individual categories and as part of three relay teams. She now holds the Regional records in 400m freestyle and 200m fly. At the Central Zonal meet she won gold medals in the 15 and under age group for 400m Individual Medley, 200m fly and 200m free. She competed at the British Champs and Commonwealth trials in Glasgow in April. She reached the junior final in both events and achieved a European Junior time in the 200m fly which means she is eligible for selection by GB Junior team in the European Championships.
Katie also won Silver in the 200m Fly and Bronze in the 100m Fly at the British Gas Nationals in Sheffield in July. She has recently been nominated as a swimmer that is 'one to watch' by the Amateur swimming Association, another fantastic achievement. Katie said "My results at the Nationals were much better than I expected – I competed in ten events, reaching the final in eight." She went on "I am very proud to have received the Sporting Achievement Award in recognition of my hard work and achievements this year, it has topped off a very successful summer."
Dan Leigh (Yr11) and Jamie Scholes (Yr10) won Highly Commended awards. Miss Jeal said "Dan is also an extremely hardworking and committed swimmer. He trains for many of hours each week and has achieved a number of outstanding times and qualifications this year." These include national times for 200m Free and 400m Free as well as being selected for the England Talent Programme, representing the Eastern Division of the English Schools Swimming Association at the National Championships in Bristol. He also came first overall at the Cambridgeshire County Championships and winning nine gold, three silver and two bronze medals.
Jamie Scholes, another extremely successful and committed swimmer, was East Region Champion in 2014 in the 14-year-old boys category. He won an English Schools 200m backstroke Gold Medal, a National Arena League 100m Backstroke meet record among other successes.
"He is an outstanding student and sportsmen and he is striving for success!" said Miss Jeal in her nomination.
Mr Game, Assistant Headteacher and Director of Specialisms said "We are very proud of these students' successes and their continued commitment to both their sport combining the many hours of training with their hardwork at school."
Congratulations also goes to Teaching Assistant Miss Terri McGinn who was Highly Recommended in the Best Support Staff category, sponsored by Chroma Schoolwear and Trophies. She was nominated for her constant support of all her students, especially the year 10 and 11s that need support with their reading, writing and understanding whilst having to prepare for their GCSEs.