And the Winners of the WW1 Centenary Competition are....
In 2012, the Prime Minister, David Cameron announced that every state school in Britain would receive two free student places to visit the WW1 Battlefields in March 2015 as part of the centenary commemorations.
In September, History department ran a competition asking students to enter a piece of work commemorating WW1 to win one of the two places offered to Jack Hunt School. The piece of work could be a painting, sculpture poem or short story.
The quality of entries was excellent and included poems from Charlotte William (Year 9) commemorating Wilfred Owen, the WW1 poet; Year 10 student Callum Genever reminding us to remember those that have fallen and one about two sides of war from Rebeka Melton (Year 7). Other entries included drawings and sculptures reflecting on WW1. Visit the Gallery to see some of the work submitted.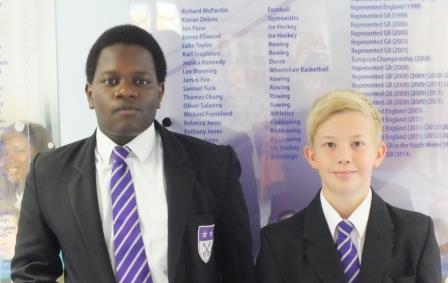 It was very difficult for the judges as the standard of work was so high, but after much deliberation the winning entries were selected. The first was a fantastic rap written and performed by Year 11 student Joel Chizhowezha called War Poetry, about the fighting and war poets. Year 7 student Alfie Eager, won the other place with his animation about the football game that took place in 'no-mans land' during the war. Both pieces of work can be viewed at the bottom of the article and will be showcased at the Arts Showcase Evening due to take place on Wednesday 22 October from 6pm.
Joel and Alfie will take part in the 4-day battlefields trip to Belgium and France in March with other students from the Peterborough and Cambridgeshire area and will join in the centenary commemorations.
Students are also receiving a daily bulletin of WW1 events on the information screens around the school and during daily tutor time. "This is just one part of the school's commemoration of those who made the ultimate sacrifice fighting in World War One. Each day there is a slide showing facts and key events in the war from this day 100 years ago. This is aimed at educating students about military, technological and medical developments during WW1" said Mr Blant, History Teacher/Head of House.