Annual Awards Evening Celebrates Student Sporting Success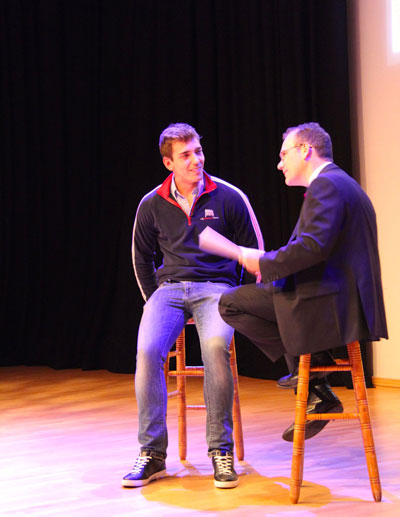 Jack Hunt School's Annual Sports Awards Evening held last night (Thursday 6 November) was the biggest held to date. Celebrating a fantastic year of sport, the School showcased students' achievements, determination and hard work to an audience of over 100 people comprising of students, parents and staff.
Special guest, Paralympic sprinter, Sam Ruddock was invited to present the awards and gave an inspirational speech. Sam was heavily involved in regular competitive sport before arriving at Loughborough University, where he played 'outside line-backer' for the 'Aces' University American Football team.
After being spotted by a sprinting coach at an 'Aces' speed and agility session, Sam, who suffers from cerebral palsy, became part of UKA's Aviva Parallel Success programme and the Paralympic Pathway for talented disabled athletes. He ran his first races in April, with his 200M performance sending him to the top of the T35 'All Time' list.
Numerous award categories were recognised and Jack Hunt School were also pleased to have members of their partner primary schools in attendance, who also nominated a student who they felt, excelled in sport in the last year.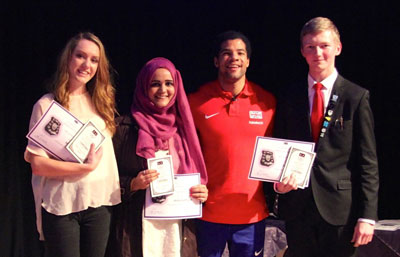 Two of the school's most prestigious awards – 'The Linda Dingle Award for the Best Higher Sports Leader' was shared by three Year 13 students this year - Steven Braby, Aisha Saddiqua and Alice Dolan - who all receive the award for their outstanding contribution to leading primary school children.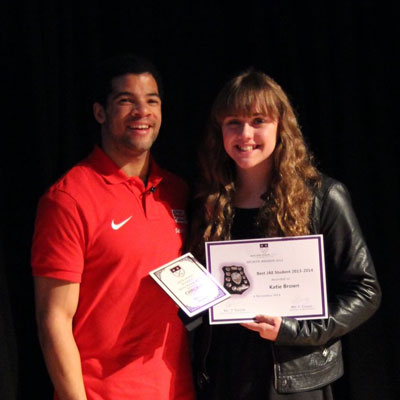 'The Best Sports Person in the Junior Athlete Education (JAE) Programme' was won by Katie Brown, who has also picked up the Sports Award at this year's Peterborough Evening Telegraph Awards for her outstanding achievements in the pool.
One of the highlights of the evening was an interview with ex-Student James Fox who spoke about his time at University and balancing his training and competing commitments as a team GB Paralympic athlete.
Director of Specialisms, Chris Game said: "The evening was extremely successful and well done to all the category winners and students who received commendations. It was great to see so many students being rewarded for their hard work and talents. Having Sam Ruddock speak at the evening was really inspiring. I am sure his motivation and dedication to becoming the best he can be will encourage our athletes to keep working hard to achieve their own sporting goals."
Headteacher, Mrs Kilbey ended the evening with "Thank you for a wonderful evening. The students at Jack Hunt School are incredibly lucky to have you as the PE team and they are certainly inspired and supported to achieve amazing outcomes."
Other Category Winners include:
Best Boys Team:
Tom Nash & Thomas Marshall
Best Girls Team:
Harriet Little; Edith Prosser; Maryam Iqbal; Olivia Nunziata; Ruqqiya Akhtar; Lucy Harrison; Molly Matthews;
Lobna Azoui; Abena Esselfie
Best Sports Person in A Level PE:


Shabir Babarkakhil

Best Dance Leader:
Megan Wiles
Best Junior Leader:
Lawrence Acosta Paxton
Best Sports Person in GCSE PE:
Zineb Azoui
Best Sports Person in BTEC PE:
Iqra Khalid
Most Improved in KS3:


Tyler Moses

Most Improved in KS4:
Josh Neacy
Cluster Primary School Award:
Taylor Maloney; Zachary Bowes; Samuel Oakley; Madhina Khan
Highest Attendance in KS3:
Jasmine Bowes; Charlotte Williams; Eloise Piccaver; Katie Prange; Eden Murphy; Francine Kelly
Highest Attendance in KS4:
Priyal Talati