Fantastic Fancy Dress Raises Funds for Children in Need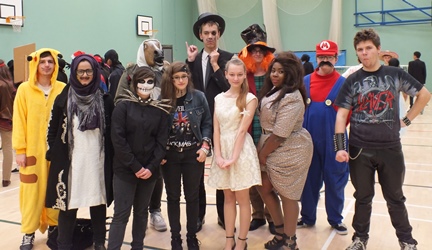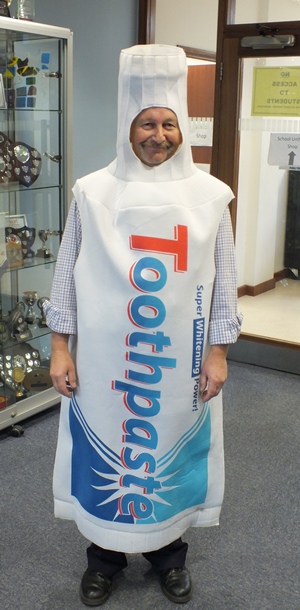 On Friday 14 November staff and students joined the rest of the country in raising money for Children in Need. Sixth Form students donned fancy dress for a donation and took part in a competition for the best dressed. The winning individual this year was Gorgeous Geisha Hamza Ali Ahmed (Yr13). However, with so many fantastic costumes on display including superheroes, Yogi Bear and Pikachu, the Mario Brothers, escapees from the US Penitentiary as well as the Minions, it was very hard to choose just one winner. So the judges decided to award group prizes as well, including Small Group won by Cruella de Ville and her dalmations (Yr 13 students); the large group winners were the cast of Wizard of Oz (all Yr 13 students) and a special award nominated by headteacher Mrs Kilbey was won by the Black Morphs (Yr12 students).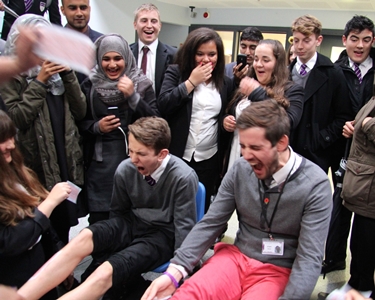 The PE Department joined in the fun by coming to school all suited and booted rather than their normal sports gear and Head of House Mr Keber was a 'minty fresh' tube of toothpaste for the day. Business teacher, Mr Mountain was joined by two students from his form, Joshua Higgins and David Holmes in being sponsored to have their legs waxed at lunchtime, whilst fellow form members sold indian snacks during the event, raising over £175.
Students also organised stalls and activities in break and lunchtime including selling doughnuts and decorated Pudsey biscuits as well as fun and games to raise money.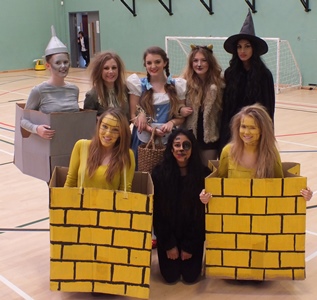 As a result of all their hard work the school beat last year's total raising £1,394.93 Curie raised the most amongst the houses with a total of almost £400.
Mr Keber, Head of Nightingale House commented that "Once again it was a very successful day and great fun. We are very proud that staff and students put so much effort into raising money to support other children across the UK."
For more pictures from the day visit our gallery.