Amazing Performances Kick off the Festive Season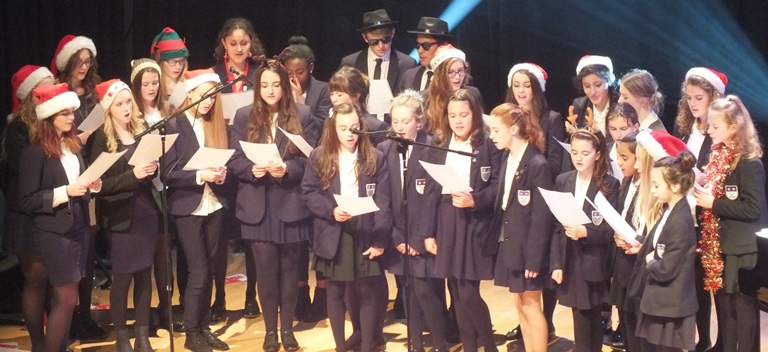 At last night's (11 December) annual Christmas Concert students supported by staff members entertained parents, families, friends and staff with a wonderful mix of chart-topping music and traditional Christmas songs. One parent said "It was a lovely evening" whilst another said to Miss Hardy, "You've done it again!" Another commented on how much they enjoyed the performances, especially the primary school children.
Performances from the Senior and Concert Choirs ranged from an acapella version of famous musical songs to traditional Christmas songs accompanied by Alice Taylor. The Concert Choir performed a beautiful version of Bruno Mars' 'Count on Me' accompanied by Teaching Assistant Mr Gigner on guitar. Choir members, Lizzy Parker and Katy Moore also performed a beautiful duet, 'I'll be home for Christmas'.
Children from Cluster Primary Schools, Thorpe School and Sacred Heart joined the performances with beautiful renditions of traditional Christmas carols. Thorpe Primary children performed 'Carol of the Bells' and 'Infant Holy, Infant Lowly' with an amazing solo from Year 5 pupil, Edsel Devish. The children from Sacred Heart Primary gave a delightful performance of 'Welcome the Christ Child' and 'The Virgin'.
Year 13 student Mollie Tadd gave a brilliant performance of 'Ende' for two recorders (one performer), composed by Dutch composer and pianist Louis Andreissen who dedicated it to the world's most famous recorder player Frans Bruggen. She performed this as part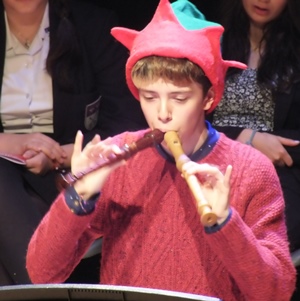 of her audition for the Birmingham Conservatoire and won her place to start in September 2015.
Other solo performances included Ayesha Patel (Yr 10) with a lovely version of 'Let it Go', Rachel Jeffries Harris who played 'Spanish Romance' on classical guitar and Darcey Murphy (Yr10) who performed her own composition 'Angels'. Guitarist, Charlie Scott (Yr 12) performed 'Always with Me, Always with You' by Joe Satriani accompanied by Josh Bookal (Yr 12)on drums and Mr Amos on bass guitar.
There were also fantastic musical performances from the Clarinet and Violin Quartets, as well as the Guitar group, playing a selection of traditional Christmas songs and well known hits. The Soul Band accompanied Sixth Form students John Sangalang and Ben Connolly with their enthusiastic performance of 'Everybody Needs Somebody (to love)' from the Blues Brothers.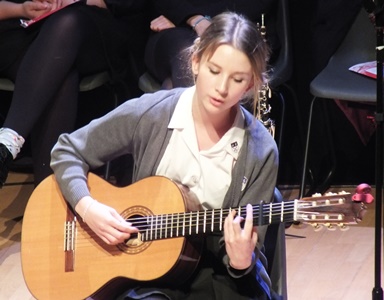 The Concert Band and the Jazz Band performed during the evening, and the final performance of 'I Wish it could be Christmas Everyday' saw all the musicians and singers return to the stage.
The evening ended with Head of Music, Miss Hardy awarding students with their ABSRM Exam (Associated Board of the Royal Schools of Music) certificates. Congratulations to those students who have passed their exams which include:
Alice Taylor (Yr10) - Grade 7 Piano
Darcey Murphy (Yr10) - Grade 6 Guitar
Will Hood (Yr10) - Grade 6 Euphonium
Alice Burbridge (Yr12) - Grade 5 Theory
Stephen Miller (Year 10) - Grade 4 Trumpet
Hannah Bough (Yr8) - Grade 3 Piano
Mr Barwise summed up the evening saying "It was a fantastic evening which gets better every year." He went on to thank staff and students "for all their hardwork especially Miss Hardy for organising the event. It takes a phenomenal amount of practice to perform at this level especially fitting it around school work." He also thanked parents for supporting their children with their practise. He finished up by saying "We have seen some amazing talent on show tonight."
Visit the Gallery to see more pictures from the wonderful evening.