Seventh Christmas Hamper Challenge Spreads the Festive Spirit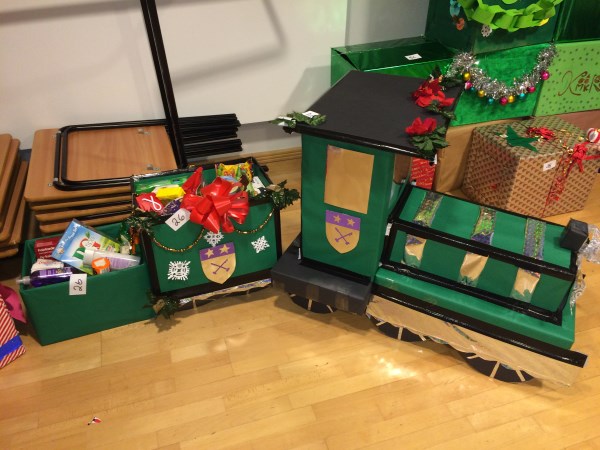 Once again Tutor Groups have been taking part in the school's annual competition, now in its seventh year, to design, create and fill Christmas Hampers. Over 80 Tutor groups entered spectacular hampers, in a wide variety of designs from giant penguins and snowmen to a 'Frozen' themed box, a Christmas train, merry-go-round and a pair of nesting robins, all filled with food items and gifts.
Each Tutor Group was given a plain cardboard packing box and it was up to them to create something special using their creative skills. It is a great opportunity for the students to work together coming up with ideas for fabulous Christmas designs and to work as a team to then make them. The students really enjoy the challenge of coming up with something different each year.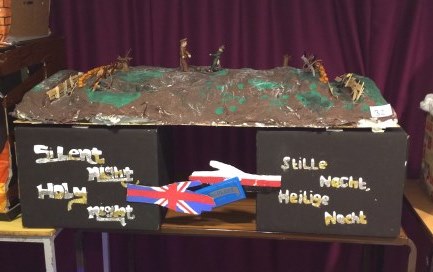 After a lot of hardwork, the hampers are voted on by staff, and the winning hampers are split into two main categories:
Overall Winner for Content - a fabulous Christmas Train from CSMN (Mrs McQuillan, Curie)
Overall Winner for Presentation – WW1 Battlefield depicting the Christmas Football game from EESD (Miss Steward, Einstein)
This year over 200 Year 7s were also given the opportunity to look round the hampers and select their favourite which was a giant penguin from KCLW (Mrs Law, Kennedy)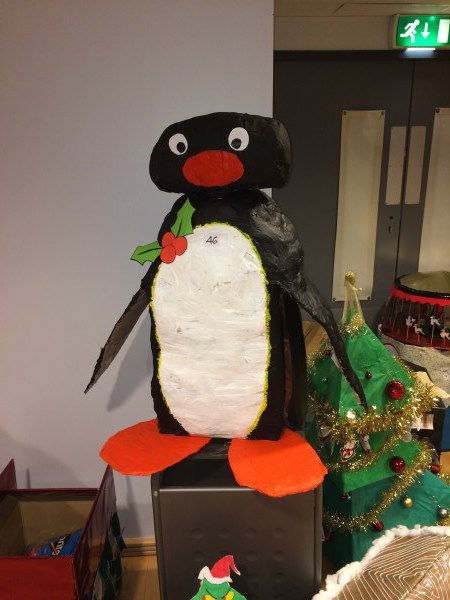 A winner is then nominated from each of the other houses and these were:
Brunel – BVBN (Miss Bracken) with a pair of nesting robins in a birdhouse.
Mandela – MCWD (Mr Ward) with a Christmas Merry-go-Round
Nightingale – NAPY (Miss Parry) with a 'Night before Christmas' themed hamper with a large grandfather clock.
The hampers have been distributed, with the help of the winning Tutor Group and a driver and delivery van donated by Arrowpak International to local charity groups:
Peterborough Foyer
New Haven Homeless Shelter
Salvation Army
Orton Day Centre – Age UK
Peterborough Soup Kitchen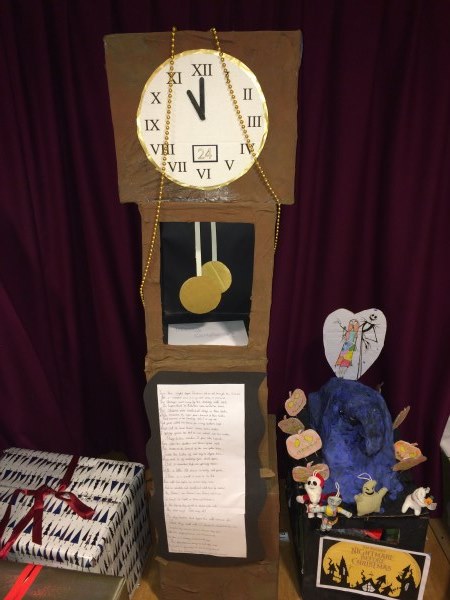 Eve Steward, History Teacher and Co-ordinator of the SEAL Programme, organised this year's competition. She said "Once again the students have excelled with their fantastic designs and generosity. They have demonstrated excellent levels of teamwork to work together in their tutor groups to produce fabulous, food and gift filled hampers which are a delight to distribute to local charities."
Visit the Gallery to see more amazing hamper designs.