4th Islamic Art Exhibition Impresses Students and Local Community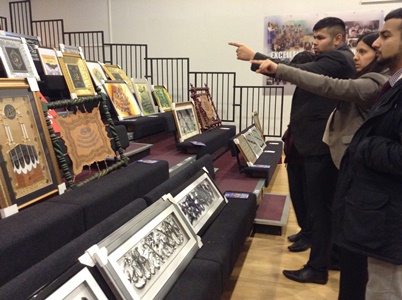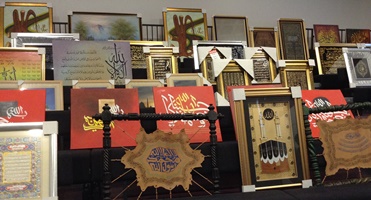 Jack Hunt held its 4th annual Islamic Art & Calligraphy Exhibition on Friday 16 January in the Main Hall. Over 300 Islamic Art pieces, from all over the world, were on display. The Art department also displayed students' Islamic Art work that was very well received by all those who attended the exhibition.
The exhibition opened at 1pm for students, with many coming down in their tutor groups to the main hall during Tutor Time (P5) to appreciate the extraordinary artwork on display. Other students were given the opportunity to enjoy the beautiful art during Lesson 6. The students were given a short presentation about Islamic Art and were encouraged to take part in short quiz about Islamic Art and complete a handout.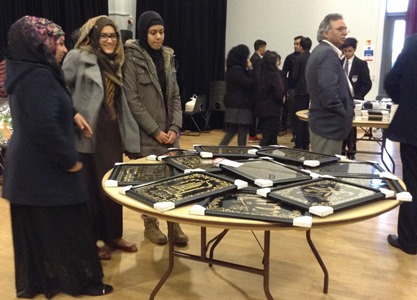 The exhibition was then opened to the community and parents from 3:30 to 6:30pm. It was lovely to see so many parents and community leaders at the exhibition including representatives from all five mosques in Peterborough. There was much praise and positive feedback for the art and the hard work of the organisers.
Headteacher, Mrs Kilbeysaid, "It was very impressive to see such a selection of Islamic Art at our school. It was a great opportunity for our students to learn more about the artistic styles and to appreciate the talent of Islamic artists including the pieces produced by our students. Thank you to the staff and local community who organised and supported this event."
Additional Information about Islamic Art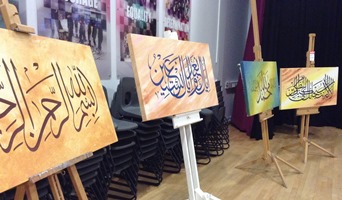 Islamic Art does not usually feature pictures of humans and animals as many Muslims think it is wrong to try and represent Allah's work and it is a very serious crime to try and draw Allah or his messenger Muhammad. Much of Islamic art contains quotes from the Qur'an or important Muslim words using calligraphy which can take the artist a long time. Another form of Islamic art is Geometric which uses basic shapes repeated to make patterns. Islamic buildings usually contain a mixture of Calligraphy and Geometric Art.