Rave Reviews for Hairspray the Musical
Every year around this time, Miss Hardy and I are showered with helpful suggestions for the following year's musical production. By far the most requested show in recent years has been Hairspray - so much so that, last year, a petition was generated! So, after resisting for three or four years because of doubts about casting, we finally conceded. I am really glad we did.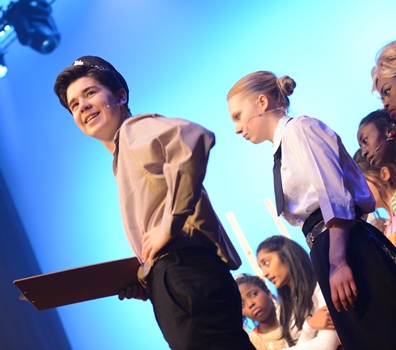 We started as a disparate band of students from across year groups, with a handful of staff members, but came together as a tightly knit company for our eighteenth consecutive annual production. From October through to February, our dedicated young performers spent hundreds of hours in singing, dance and dialogue rehearsals, culminating in five full performances in a magical theatre space, designed and lit by Patch Tate and his crew, with a set built by Gareth Keber and with live musical accompaniment from a small band of highly accomplished musicians. All this and the authentic costumes, props, hair and make-up were essential ingredients of whatever it is that transforms, overnight, a dishevelled and disjointed dress rehearsal into a high energy, slick and joyful performance All of us in the production team were once again utterly delighted and astonished at the standard achieved not just by the amazing principals, but by everyone involved.
Hairspray is a funny, bubbly show with big characters, great songs and distinctive dance routines, all integral to the narrative. For good measure, we are invited to give some thought to more serious questions of prejudice, institutional injustice and civil rights.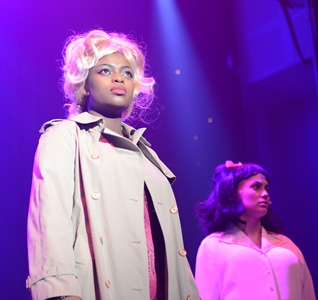 A few weeks after our show, in March 2015, it will be the 50th anniversary of the historic marches from Selma to the capital of Alabama, led by activists like Martin Luther King Jr, fighting against segregation and seeking to ensure the right to vote for black Americans. When Tracy Turnblad joins with Motormouth Maybelle, Seaweed and Little Inez to storm the segregated TV station during the musical, we laugh at the discomfiture of the flustered Mothers and Daughters. Tracy's act of solidarity with her black friends brings about - in the tradition of musical theatre - a fairy tale ending for all. But Motormouth reminds us, in the single serious song of the whole show, that this is just one step on a very long journey.
Our own musical journey is over for this school year, but the friendships generated and the funny, happy memories will endure: "You Can't Stop The Beat!"
Mrs Keber
REVIEWS
In her speech after the last show of the week, Headteacher Mrs Kilbey said to the audience, "I am sure you are all glad you didn't have to go to London to see such a polished, professional show. As it says in the show, the future is beautiful and I am looking at it - I am so proud of you all!"
Mr Larke, grandfather to one of our performers wrote in an email to Mrs Kilbey, "My wife has attended every JH musical since 2005 and I most of them. It has been a pleasure to do so but 'Hairspray' has been by far the best. No less than ten members of my family, some of them twice, attended various performances and were all very impressed. The quality of the singing was particularly noteworthy."
Nicki Sanders, who signed for the Thursday evening show with Kirsty Dorkenoo, wrote, "Massive congratulations on last night's performance. It was an honour to be involved in the performance with you all, you were amazing. The amount of hard work you all put in really showed and you should be very proud of yourselves."
Another audience member, Ms Grenfell commented, "Just wanted to say thank you for a wonderfully entertaining show. It was amazing and sitting there, it felt like I was at a professional show and you forget how young the students are. A lot of hard work and commitment has gone on to produce such an entertaining evening."