Sports Leaders Teach Primary Pupils Their Sporting ABCs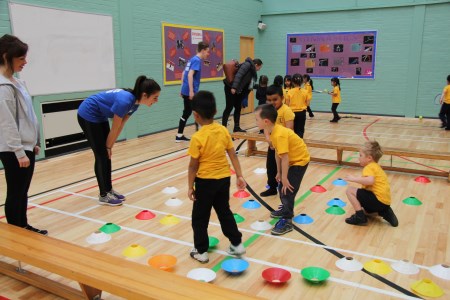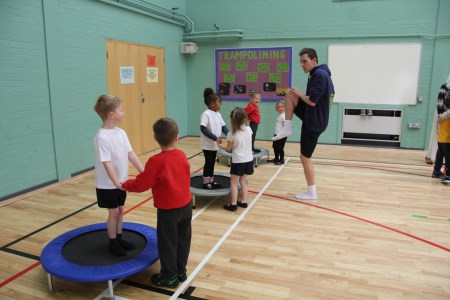 Our Year 12 Sports Leaders, recently organised a highly successful Sports Festival for 160 Year 1 pupils from Thorpe, Gladstone, Middleton and Sacred Heart Primary Schools. The festival concentrated on helping the children to develop their Agility, Balance and Co-ordination (ABC). The Sports Leaders designed different stations which each had an activity for the children to develop one or more of the A, B, and C skills.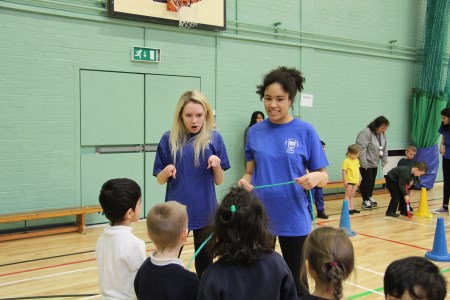 For the mass group warm up at the start of the Festival, the Sports Leaders led all the Year 1 Pupils, teaching them the 'cha cha slide'. The children were then split into smaller groups to visit eight, five minute activity stations run by pairs of Sports Leaders. The pupils then moved around each station, giving them lots of opportunities to develop and improve their Agility, Balance and Co-ordination skills.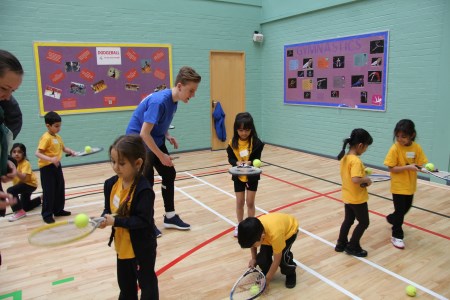 Everyone seemed to be having a lot of fun and the Sports Leaders really enjoyed working with the Year 1 children. One of the Year 12 Sports Leaders, Maryam Mansha said "All the children worked really hard and were very enthusiastic."
"Many of the Primary School staff members were very impressed with how professionally we led the Sports Festival and the range of activities." she continued. "The Jack Hunt staff were also very pleased with how well we worked together and how much the children all seemed to enjoy the day. Overall, from the feedback and response we have received from the staff, Primary Schools and other Sports Leaders, it was a great success."
We would like to thank the Year 12 Sports Leaders involved for their excellent teamwork and organisation which made for the smooth running of the Festival: John Daniels, Charlie Gallogly, Nadine Hidalgo, Mevish Hussain, Albert Johnson, Mega Khadka, Iqra Khalid, Sabba Khan, Samikshya Koirala, Sabrina Mahmood, Bianca Manganiello, Maryam Mansha, Priyal Talati, Dario Tanzillo, Ottavio Tanzillo.