Talented Mollie Tadd Triumphs with her Recorder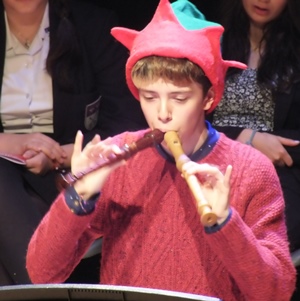 The popular five day Peterborough Competitive Music Festival, which has been going since 1925, made a welcome return this March following a one year break. Talented young musicians from the area took part in a range of classes including piano, woodwind, brass, recorder and strings over the five days, judged by local eminent musicians.
Mollie, who has recently been awarded a place at the Birmingham Conservatoire, played two pieces to win the class and a place in the final on the Saturday. The pieces were the 2nd Movement (Siciliano) from Guiseppe Sammartini's Recorder Concerto in F major written for the Descant recorder and Norman Fulton's Scottish Suite on the Treble recorder.
The competition concluded with a Final Concert held at the Town Hall on the Saturday night, where the finalists performed to a packed audience. The finalists' performances were again judged and trophies were awarded at the end including the 'Lily Palmer Trophy' and the title "Peterborough Young Musician of the Year' (awarded to the most promising young musician of the Festival) won by Mollie.
Miss Hardy, Curriculum Leader for Music commented "Mollie arrived at the Music staffroom door in Year 7 asking to perform a solo and she has been outperforming ever since. Mollie is not only talented but works very hard rehearsing and performing. With her hard work, commitment and talent, I am sure she will do very well in her future career in music."