Year 11 Football Storm the Final with a 7-1 Win

Once again Jack Hunt boys performed brilliantly as the Year 11s took to the pitch for their final at The Grange on Thursday afternoon (23 April). The boys took an early 2 goal lead with a penalty won by Mwansa Tengenesha and taken coolly by Lewis Brisbourne, the second a nice finish by Josh Higgins after a wide free kick from Lewis.
At half time the score was still 2-0 with Jack Hunt dominating the majority of the first half. Both teams started the second half strongly, but Jack Hunt managed to press home their advantage to take a 4-0 lead with goals from Azizullah Sharifi and a great finish into the top corner from Mwansa after unselfish play from George Dowds.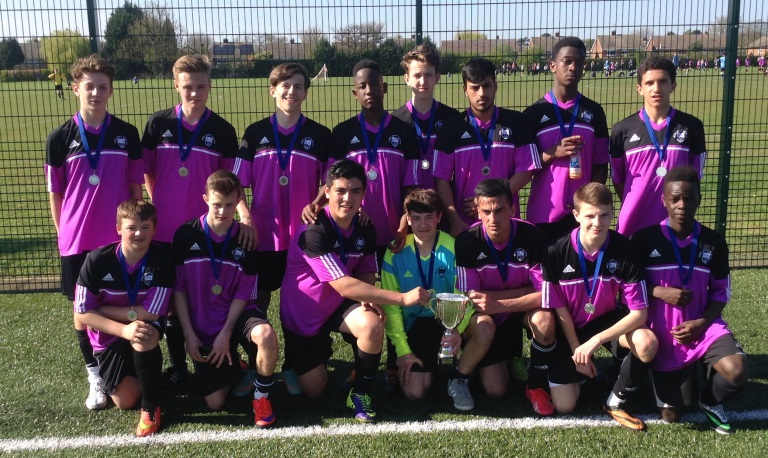 Arthur Mellows then started to play their best football of the match getting a goal back from a wide free kick. Jack Hunt responded well to this and with 2 more goals from Azizullah, completing his hat trick with a stunning left footed half volley from the corner of the 18-yard box – the goal of the match. However, there was still time in the dying minutes for Joe Chung to find space in the box and to coolly finish by putting the ball into the bottom corner of the net rounding off an impressive display from all 15 lads.
Well done to all the boys: Adam Clarke, Joe Chung, Lewis Brisbourne, Josh Higgins, Matija Zivotic, Joe Parr, Shirshah Nasiri, Callum Carr, Laurence Acosta-Paxton, George Dowds, Mwansa Tengenesha, Liam O'Connor, Ismail Coulibally, Trevor Muzuva and Azizullah Sharifi.