Work Experience Awards 2015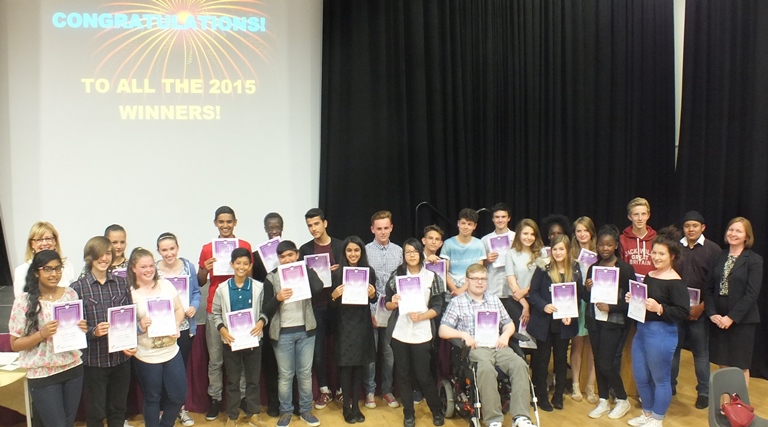 On evening of Thursday 18 June, Year 10 students, their families and some employers attended the annual Work Experience Awards celebrating the success of the students' experience in a real work environment. Deputy Headteacher, Ms Simpson-Holley emphasised the importance of the two weeks Work Experience to our students and our continued commitment to it. Not only does it help the students' motivation and focus leading up to GCSEs but it helps with decisions about their future. The two weeks enable them to build self-confidence, independence and to gain skills that will help them in their future careers.
This year more than 280 students took part working with over 200 employers, mainly in Peterborough and surrounding areas. Employers came from a wide variety of occupational areas including the RAF, Retail, Charity, Health and Beauty, Childcare, Animal Welfare and Engineering.
With over 140 of these students nominated by their employers for an award, it was a tough task to narrow down the shortlist to just 31. All the nominated students have received house points and the 31 shortlisted also received a gift voucher, pen and certificate from Deputy Headteacher Ms Simpson Holley at the event. See the attached list of winners along with some of the comments made by the employers in their nominations.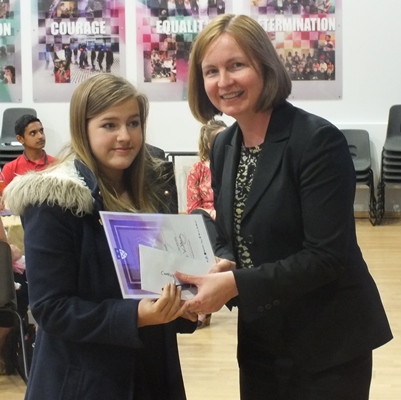 "We are very proud of the hardwork and commitment shown by our students during their work experience and it is great to hear such excellent compliments from the employers. Choosing the Award winners was a very difficult task but it makes it very worthwhile." said Mrs Lawrence, Head of PDE and Citizenship. "We would like to thank all the companies and employers that support us with our Work Experience, we couldn't do it without them."
Parents of Charlee Dixon (one of the Outstanding Performance winners for her work as a TA Assistant at Fourfields Primary school) said "I recently attended the award evening in support of my daughter.. The evening was brilliant and I'm so glad and impressed as to how the school celebrate the opportunities those weeks provide to students." Staff at Fourfields said that Charlee was "a credit to her school. We would welcome her back with open arms!"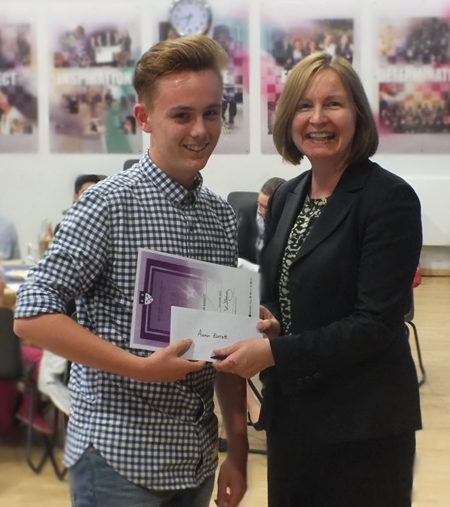 Aaron Barrett received a Highly Commended Silver Award after being nominated by his employer, Landis & Gyr, based in Market Deeping, where he worked as an IT Assistant /Engineer. Aaron said "I really enjoyed the two weeks, it was so varied. I got to spend time in most of the departments and some of the highlights were using a soldering iron and designing a case for a speaker using the 3-D printer. It will really help me focus on my revision for my GCSEs and keep me motivated." His employer said "It was a pleasure to have him on site."
Amardeep Singh who received a Platinum certificate for his work at R N Motors Ltd as a Mechanics Assistant said "I really enjoyed my two weeks, I met some really nice people who gave me a good perspective of what is involved both in training and doing the job. It was really interesting to see how they teach in the Academy there. It has also helped me to make some important decisions about my future."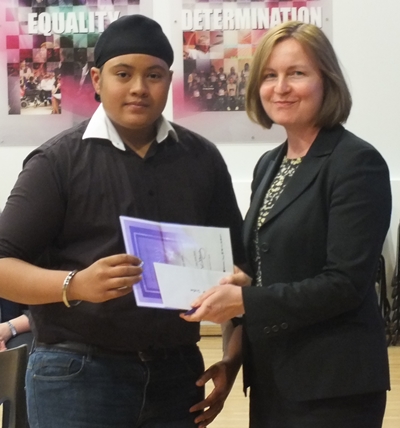 R N Motors said of Amardeep "he is one of the best work experience students, in fact the best student EVER! We have students regularly throughout the year and Amardeep is way and above the others. A very employable candidate!".
Other employer comments included:
Thomas Marshall who worked as IT Assistant at Northgate Arinso "Work ethic and attitude spot-on. Exceeded all expectations. Fitted in 'brilliantly' with the rest of the team." Sinead McKernan who was a Customer Care Assistant at Mears Lts "Excellent face-to-face communication. One of the best students we have had. A conscientious young person and an excellent performance.
Riwian Chetian (who received a Distinction Award with Gold Certificate) worked as a TA Assistant at Longthorpe Primary who said she was 'An excellent work experience student, in fact THE best ever!"
One Source Communations said that Tapiwa Tandi who worked as an Admin/IT Assistant was "A credit to himself, his family and JHS. Excellent student!"
PKAI Hair said of student Sydney Surridge "She has changed my view of work experience placements to a positive one."
The Salvation Army Charity Shop said of student Wing Lai "You can have two of my staff and we'll keep Wing! Cannot fault her, she works harder and more intelligently than anyone else. A fantastic young lady who completes one-hour tasks in twenty minutes. Thank you for a wonderful student!"
And these are just some of the comments, click here to see even more… and visit the gallery to see more photos from the evening