Riding for Ryder - the 'Tour de Ward'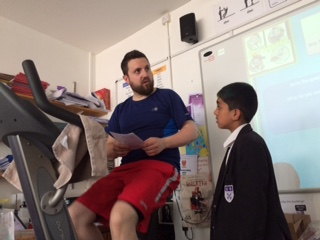 This morning at around 7am, English Teacher Mr Ward began his sponsored cycle which is to last around 8 hours straight. He is raising money for the local Sue Ryder Thorpe Hall Hospice, somewhere that has been a great support to both staff and students of the school. Not only is he spending 8 hours on the exercise bike in his classroom, but is continuing with teaching at the same time!
Mr Ward has trained hard for the day, spending hours both at the gym and out and about cycling in the local area to ensure that he was fully prepared for the huge challenge ahead of him.
It is important that Mr Ward keeps hydrated and replaces the calories that he burns off at an outstanding rate, so he is regularly eating food high in carbohydrates, as well as smoothies and lots of water!
Mr Ward is being supported throughout the day by his Wardettes, a team of eager students, selling cakes, sweets and drinks to raise extra pennies for this excellent cause. Particular thanks need to go to Madihah (NJPE) and Michael, Aminah and Aisha in CDWD who organised and sold many of the sweet treats. Support was also given by the week old chicks who have been in school over the past two weeks. They paid a visit to chirp their support and encouragement, after which it was noticed that Mr Ward cycled that little bit faster!
You can catch up with the action on the 'Riding for Ryder' blog and if you would like to donate, click here. Any amount of pennies will make a difference for this fantastic cause.