Mayor Presents Awards for First Language Competition

On Friday 26 June, Jack Hunt School hosted the first ever 'Have Your Say' competition sponsored by Roots into Languages East*. Students from seven other Peterborough Schools, Thomas Deacon Academy; Ken Stimpson; Ormiston Bushfield Academy; The Kings School; Hampton Academy; The Voyager and Stanground Academy took part. As well as staff and students from the schools, Jack Hunt School were also delighted to welcome Peterborough's new Mayor, Cllr David Over who presented the students with certificates and the winning shields.
The competition involved pairs of students performing two 2-way dialogues in French, Spanish, Urdu, German and Italian depending on which foreign language they are studying. The first dialogue was given to them prior to the competition, for them to learn and practise and to complete in their own words the four blanks, ready for performing in the competition. The students were then given an unknown dialogue with ten minutes to rehearse it before performing it. Marks were given on both dialogues by the judging panel (made up of Language Teachers from the schools taking part), for the quality of their speaking skills and their performance in the chosen foreign language.
All the students performed extremely well and it was a very successful first event. The students received a Highly Commended certificate and those achieving one of the top three places received a Shield and Certificate.
"We were delighted to host the first ever 'Have Your Say' competition and welcome the Mayor, Councillor Over to present the awards," said Mr Mandin, Curriculum Area Leader for MFL "All the students performed extremely well on the day and we would like to thank them and the judging panel for taking part. It is a pleasure to see students' enthusiasm for learning languages and meeting the challenge of performing dialogue in a foreign language."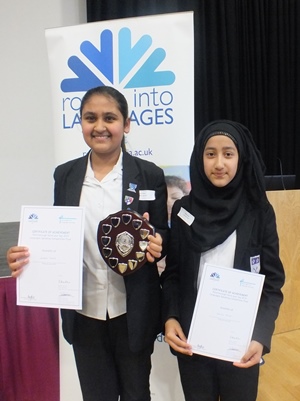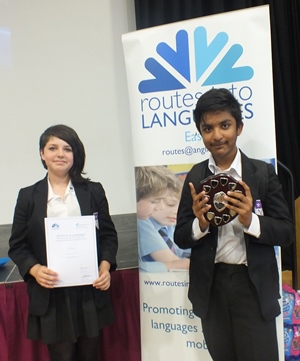 The Jack Hunt students performed very well achieving a second place in Urdu and third in French. Congratulations to Year 8 students Javeria Tariq and Taaliha Afzaal for coming second and to Adil Jamil (Year 9) and Charlotte Stimpson (Year 8) for achieving third place.
*Routes into Languages East is a consortium of universities (led by Anglia Ruskin University in partnership with University of Cambridge, The Open University, The University of East Anglia, Hertfordshire University and Essex University) working with schools and colleges, to enthuse and encourage people to study languages.