Fundraising Extravaganza at 'Big Finish'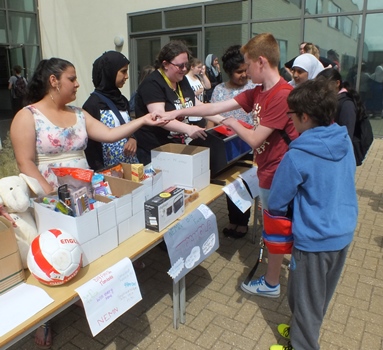 Once again, on the last day of term (Friday 17 July), staff and students were organising their form activities for the annual 'Big Finish'. The Big Finish gives students the opportunity to enjoy the last day of term whilst helping others raising money to support charitable organisations. This year they were raising money for the Sue Ryder (Thorpe Hall) Hospice, the Multiple Sclerosis Society and for D&T Teacher, Mr Hargreaves' project supporting schools in Watamu,Kenya.
The event brings out the entrepreneurial spirit in the students, as all 84 tutor groups are given the challenge of raising money by organising activities, competitions or selling items at the huge Annual Fete that runs for an hour and half during the morning. Each form starts with a kitty of £5 to fund their activities.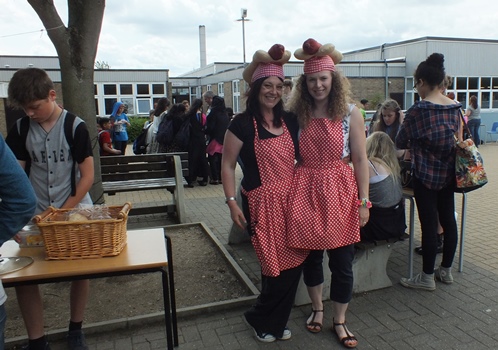 This year we really benefited from lovely summer weather and so all the activities were able to be held outside. On offer were lots of games and challenges including football shoot out, sticky ball, tombola, sweet and cake stalls and once again there was the favourite night club in drama.
Miss Mordey and Mrs Urciuoli-Hill attracted quite an audience for their hotdogs dressed in their 'Hotdog Chef Hats'. The staff Gareth Keber, Head of House said "This is a fun way of raising money for local charities and today we were lucky with the weather. The students are very motivated and have some very enterprising ideas. Once again it was a great way to end the term and the students did a fantastic job raising even more than last year with over £2,437.00"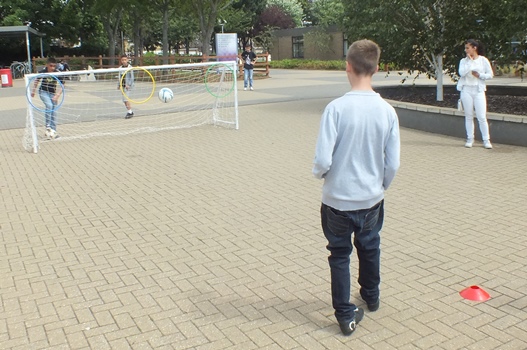 Well done to all staff and students for their hard work and donations. We would also like to say a big thank you to the local companies that have responded to student requests by supporting them with their generous donations.