Signing Students Work With Royal Shakespeare Company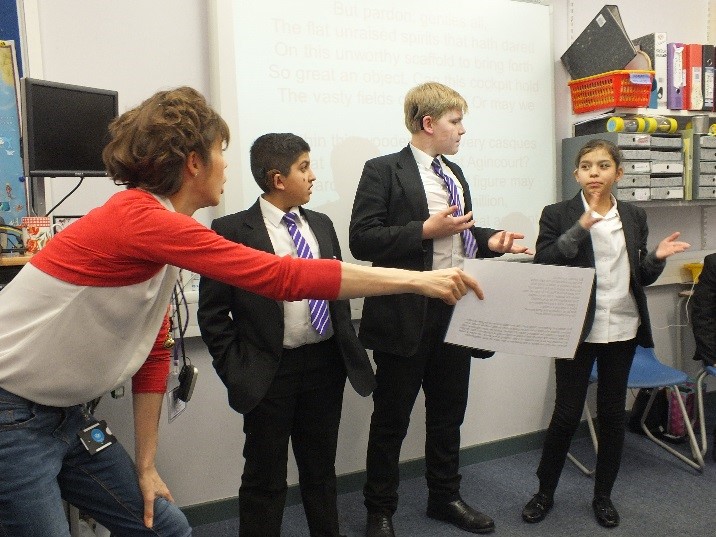 The Royal Shakespeare Company (RSC) visited Jack Hunt School on Monday 2 November to work with our Deaf students on developing their British Sign Language interpretation of Henry V for their forthcoming broadcast of the play in November 2015. This involved students working with an interpreter from the RSC to develop some signs for character names and exploring key sections of the Shakespearean text with her – particularly the parts spoken in French!
The workshop was very involved and the students revelled in the opportunity to work with someone who works in the Arts, ensuring that Deaf people have access to professional theatre productions. It was an exciting opportunity to work with an amazing professional – an interpreter and actor – and to play such an important part in making this play accessible for all Deaf students across the country.
After the visit, Becky Allen (MRSLI, PGDip, Full ASLI Member, NRCDP I.D. 1014843) who works with the RSC to interpret all of their performances stated "Just a quick message to say a big thank you for allowing me to visit Jack Hunt School yesterday. It was great to meet you all, and I very much enjoyed working with the learner group, and of course the staff, who were very supportive".
The RSC's Henry V will be broadcast on 19 November 2015 and will be available to stream in schools throughout the UK. The BSL synopsis video goes up onto Youtube prior to this date to enable schools to work with Deaf students to ensure their understanding of the play – so don't forget to watch this to see our learners get a mention!