Sports Awards 2015 - Celebrating Sporting Success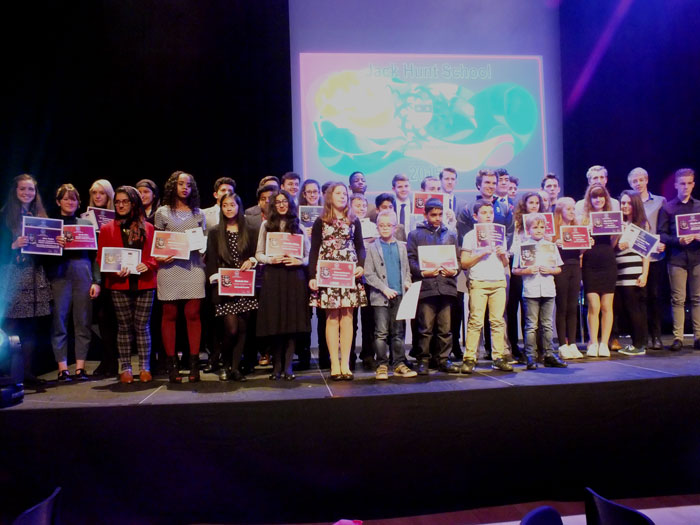 Our annual Sports Awards Evening on Thursday 12 November celebrated a fantastic year of sport, showcasing the many achievements of students from Year 6 to Year 13. Jack Hunt staff and students were delighted to be joined by members of our partner primary schools who had also nominated students who had excelled in sport this year.
Special guest, Olympic Gold Medallist, Tim Baillie was invited to present the awards before sharing his journey to Olympic Gold at the London 2012 Games. Tim represented GB at the U23 World championships before deciding to switch to the double canoe where he teamed up with Etienne Stott. After a disappointing Beijing Olympics in 2008 they changed the way they trained and adopted the mantra – 'Behave professionally in everything you do, make the best of every situation and train to be your best'. Their hard work paid off when they won Gold in 2012.
Two of the school's most prestigious awards – 'The Linda Dingle Award for the Best Higher Sports Leader' was won by Summaya Manji (Year 13) for her leadership and volunteer work in both Jack Hunt School and the local community.
'The Best Sports Person in the Junior Athlete Education (JAE) Programme' was won by Jamie Scholes (Year 11) who has taken a step up from being a National finalist in swimming to achieving his first International selection this year. Not only does he spend many hours training and competing, but Jamie has also completed the Bronze Duke of Edinburgh Award which requires 6 months of community volunteering.
Assistant Headteacher, Chris Game said: "The evening was extremely successful and we want to say a huge well done to all the category winners and students who received commendations. It was great to see so many students and their parents celebrating the achievements in many areas of PE and Sport. Having Olympic Gold Medalist Tim Baillie speak at the evening was really inspiring. I am sure his motivation and dedication to becoming the best he can be will encourage our athletes to keep working hard to achieve their own sporting and personal goals."
Other Category Winners include:
| | |
| --- | --- |
| Best Boys Team: | Year 11 Football Team |
| Best Girls Team: | Year 7 Trampolining Team |
| Best Sports Person in A Level PE: | Alice Dolan |
| Best Dance Leader: | Jessica Pedro and Uhupa Hangero |
| Best Junior Leader: | Tom Nash |
| Best Sports Person in GCSE PE: | Edith Prosser |
| Best Sports Person in BTEC Dance: | Chloe Garner |
| Best Sports Person in BTEC PE: | Humza Nadeem |
| Most Improved in KS3: | Kamile Skukauskaite, Lina Valinciute and Karolina Ramutyte |
| Most Improved in KS4: | Daniel Cole |
| Cluster Primary School Award: | Rehan Mahmood, Enkeled Muja, Bonnie Carney, Ryan Bartlett, Devonne Piccaver, Toby Maxfield, Maryam Naeem |
| Highest Attendance in KS3: | Jake Lawless |
| Highest Attendance in KS4: | Jessica Lines |