The James Fox Interview
Jack Hunt students, Jessica Lee and Riwia Chetian, were lucky enough to interview Paralympic hopeful and ex-Jack Hunt pupil, James Fox this week. Talking about his past experiences, current plans and future ambitions, James also had some advice for current students.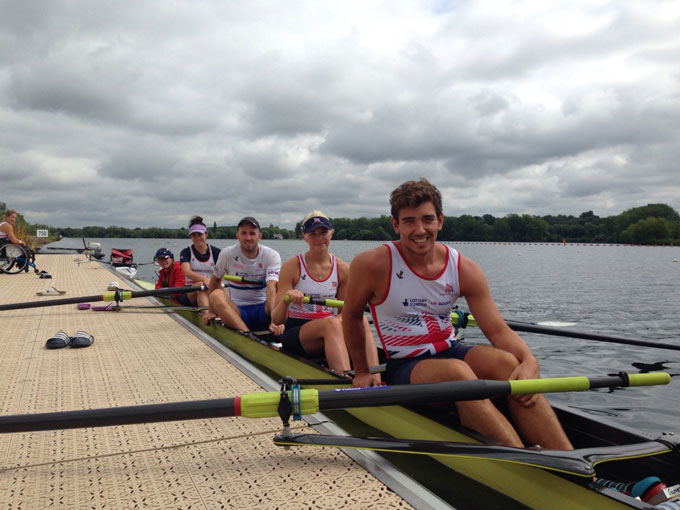 How does it feel to be selected to try out to represent GB in the Paralympics next year?
Firstly, the trialling process goes right up to July 2016 so I can't rest on my laurels yet, but we have just qualified as a coxed four from Great Britain to go to the Rio Paralympics which is really exciting! I just have to keep training hard now and hope that I am in the crew that they send next summer. As for representing GB; I have been competing internationally since I was 16, which seems like an age ago, but the experience never gets old! I absolutely love putting myself on the startline against the rest of the world and representing our country. It's what I've wanted to do since I first took up rowing at the age of 12, so to be doing it on a regular basis now is a really good feeling.
How many hours do you train each day?
We aim to physically train for 1000 minutes a week which works out at just short of 3 hours per day because we have Thursdays off. That can be made up of anything from weights training, cardio work or rowing on the water. On a typical day I am out of the house from around 7.30am - 3pm because there is a lot of prep that we do before sessions, like stretching and warming up. More importantly, there is also lots of eating and resting to do between sessions!
How has Jack Hunt helped you get where you are today?
Jack Hunt School, and the staff that were around me, have had a massive input into the person I am today and where I have ended up. From the support that my subject teachers gave me on a daily basis to Mr Game helping me sort myself out when I dug myself a bit of a hole trying to juggle rowing and school, and even to the staff who would just ask me how I was getting on with everything, it all really helped. A lot of schools wouldn't have supported me as much as Jack Hunt did so I am seriously grateful.
Do you have a special diet?
I guess I probably do have a special diet but the most 'special' thing about it is the volume of food I eat more than anything else! We are encouraged to make sure we include all the major food groups (carbohydrates, protein, fruit and veg, etc.) in our meals, but I don't think that varies that much from any of you guys that have a balanced diet. I just eat a lot more of it! I think my poor mum would be the best person to talk to about how much I eat!
We know you've just got back from Brazil, what was it like?
Brazil is absolutely insane! That's the best word I can think of to describe it. There is so much going on all the time! I heard a lot of horror stories before we went about the violence, street theft, dirty water and the state of the Olympic Village, but I think it'll be a great place to host the Olympics and Paralympics. If anybody is heading over there I would definitely recommend going up to see the Christ the Redeemer statue. It's the top tourist spot in Rio and the view is incredible!
What time do you get up and when is the latest you go to bed?
On a typical training day my alarm goes off at 6.40am and I'm out of the house by 7am to get to training by 7.30am. With that in mind I don't normally go to bed later than 10.30pm unless 'First Dates' is on and then it's 11pm! Can't miss that.
What advice would you give to Jack Hunt students taking their exams this year to keep them motivated?
I don't think there are any shortcuts when it comes to getting results, unfortunately, you just have to work hard. Saying that, the easiest way to do that is to find a way to enjoy the work you are doing. It might be to work with friends or to pick subjects you really enjoy but at the end of the day, when push comes to shove, you won't want to work hard if you don't enjoy what you are doing! Enjoy it and you'll do well!!
What do Brazil nuts taste like and did you see any blue parrots?
I know I should have done, but I didn't look for any Brazil nuts when I was in Brazil! They do sell coconuts on the side of the road though that they crack open and you drink from – they were delicious. As for the blue singing parrots I'll have to keep an eye out!
What advice would you give to students who enjoy rowing at Jack Hunt?
I think the same goes with rowing as it does with school work; there are no shortcuts to being good! You just have to enjoy what you're doing and if you're not enjoying it just try something else. Row with different people, do more of the areas of training which you enjoy because you won't be good if you don't enjoy it. Secondly, and I say this with caution, you have to put your own interests first to a certain extent. I'm not saying bin your club and train by yourself because that won't work, but take every offer you are given. If you are invited to a training day somewhere, go! Same with different clubs; if somebody else wants to compete with you remember who your home club is, but go and get that experience and you'll learn from it. The same applies to other sports.
What gel do you use in your hair when you race?
This question made me laugh. I don't actually use gel at all, but judging from some of the pictures of me racing and on the podium I should probably think about using some! Any suggestions?
What was the best moment in your career?
My proudest moment was winning my first World Championships title in South Korea in 2013. It meant that I had achieved what I had set out to do when I was a lot younger, albeit in a different discipline. But soon after I won that feeling went away and I focussed on the next year, and then the next year. Hopefully the best moment in my career will be winning gold next year in Rio, but we'll have to wait and see about that one!
How did you overcome any challenges?
Probably the biggest challenge I've had to overcome, and still am overcoming, is breaking my back in a car crash in 2010. I had just finished school and was in my first term at university and had big plans to continue in pursuit of my Olympic dream. Breaking your back when you're a rower is about the worst thing you can do and so, at times, I pretty much considered my rowing career over and done with. Also, among the worst things you can do is try and train and race on a broken back before it has had time to heal and that is exactly what I did. I think the first step when you face a challenge is to acknowledge the challenge and not try and push on through it and so I stopped rowing and started my rehab. You have to set yourself challenges on the way too so you know you're getting over the obstacle. When I was injured I couldn't row but I trained by biking and swimming (still couldn't run for the life of me but that's a different story) so I entered a triathlon to give me something to aim for that would also help me overcome the obstacle. On top of that, you just have to take things one day at a time. If I looked ahead and realised how far away from rowing again I was it annoyed me so just concentrate on the 'now' and being better today than you were yesterday. My final point is to make sure you surround yourself with positive people. It will seem like they're doing all the hard work for you and will make your job much easier!
What are your future plans?
For now my ultimate goal is to win gold at the Rio Paralympics next summer. After that I don't know what I'll do. I am undecided whether I want to try to go to Tokyo in either the Paralympics or try for the Olympic team, but I'll decide that nearer the time. Aside from sport I suppose I had better start preparing to enter the real world so I would like to start dabbling in a career in property development in the next few years.
Thank you for answering our questions and best of luck for the future to you James!