Students Honour Paris Victims and Show Solidarity with France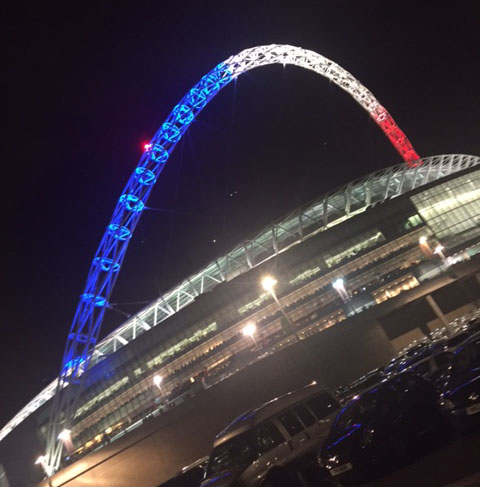 On Monday Jack Hunt staff and students joined the rest of the UK in a minutes silence at 11am to honour the Paris victims and show their sympathy and solidarity with the people of France following the recent bombing tragedies. During the minute long reflection students were shown Paris landmarks in the colours of the French flag.
This was followed on Tuesday evening with students from the Year 7 and Year 8 boys' football teams together with members of the Year 8 girl's football team and primary students from across the Jack Hunt Cluster, joining over 70,000 football fans at Wembley for a very special England France friendly where they honoured the victims and show their solidarity against the horrific events of last Friday evening in Paris.
A total of 80 students travelled to Wembley stadium to enjoy the match. Following concerns over security the trip was in some doubt, however all the staff who were attending were unanimous in their decision to attend the game and give the students the wonderful opportunity to show their support for the Paris victims.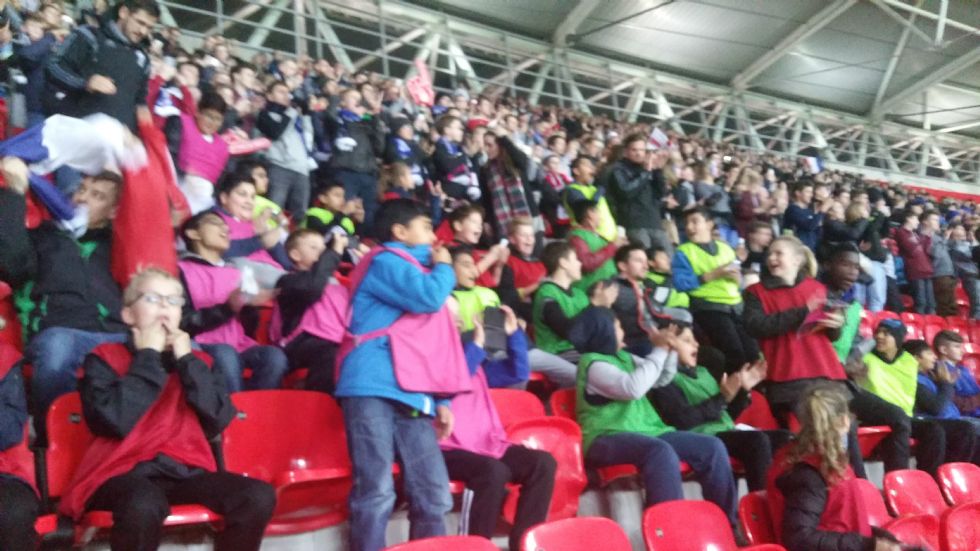 Mr Smith said "We contacted parents following the events of Friday evening to confirm they were happy for their child to go on the trip and had a meeting with the students to discuss the changes in protocol that had to be made following the tragedy. Students understood that the increased police presence was there for their safety and checks had been done to ensure the game could continue."
"With the increased security presence around the stadium, it took some time for us to arrive at Wembley. Students made their way to their seats and immediately showed their support by observing the applause for the laying of the wreaths, the minute silence and having a go at singing the French National Anthem. The atmosphere was amazing with French and English fans sitting together and sharing scarfs and flags and joining together in a Mexican wave. Something the students really enjoyed. The game was played in good spirit, with England winning 2-0."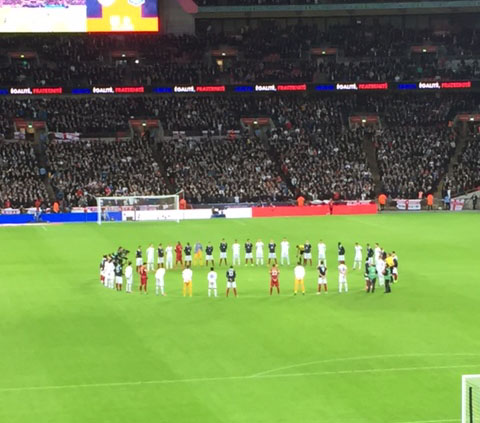 "The students were outstanding Ambassadors for the Jack Hunt Cluster." continued Mr Smith, "A real credit and pleasure to take on such an emotional trip. All students have received an Active Citizen postcard for their exemplary behaviour."
Khalil Trabelskiin Year 8 said "It was fun, one of the best things of my life as it was my first time at Wembley. We could see everything from where we were sitting. It was very crowded but we wore brightly coloured bibs so we knew who we were with." And, fellow Year 8 student Haris Ikram who has been to Wembley before, said "It was a really good atmosphere because the stadium was really full and we were right behind the goalposts so we had a good view of the game."
Haydon Nicholls, Year 7 said "The game was awesome, it got really crowded so there was lots of noise making the atmosphere really good. Akhil Joseph, also Year 7 commented "It was my first time at Wembley and was even better than I expected. We had a great view of the pitch and it was really exciting when the ball got near the goals."