Assistant Head Rises to the Challenge of Spending a Day in a Wheelchair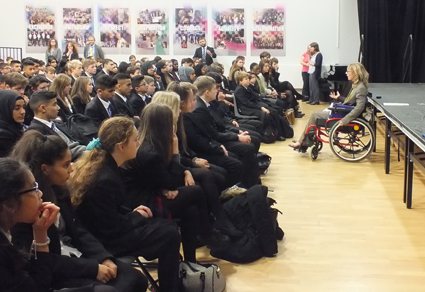 Following a challenge set by wheelchair users at Jack Hunt School, Ms Cliffe, a member of the Senior Leadership Team (SLT) really got to understand their needs by spending a day in a wheelchair.
Having set up the 'Open Eyes' student group who look at issues involving disability around school, Assistant Headteacher, Ms Cliffe accepted this challenge, without making any changes to her already busy day. This whole process was filmed to record the trials and tribulations she would face.
On interviewing Ms Cliffe a few days later, she fed back how important the challenge had been to help her fully appreciate some of the challenges that our most exceptional students face. She said "I have finally realised after 32 years of working at Jack Hunt, that the school is built on a slope and moving between one particular block and the canteen proved to be a struggle throughout the day."
"I also now appreciate how quickly the wheelchair becomes part of your body," she continued. "I will be feeding back my experience to the 'Open Eyes' group and the SLT team."