Presentation Evening - Celebrating the Amazing Successes of 2015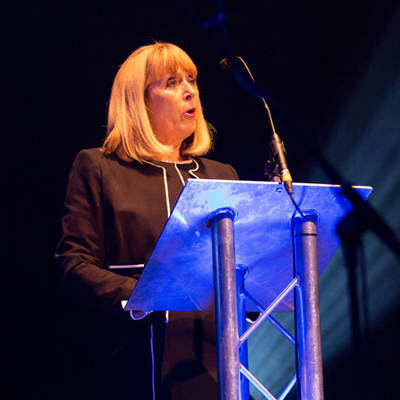 'Truly memorable', 'Superb', 'Inspiring' – these were just some of the words used to describe our annual Presentation Evening on Thursday 17 December. The evening celebrates and showcases the amazing achievements and talents of students, both academically and vocationally, with awards and trophies being presented to students past and present. We were very privileged to be joined by guest speaker, adventurer and athlete Sarah Outen MBE, FRGS, who has recently returned from a four and half year, 22,000 mile expedition 'London2London'.
The evening was opened with a lovely rendition of 'Somewhere only we Know' before Headteacher, Mrs Kilbey went on to outline the highlights of the last year including awards won by students, members of staff and the school as a whole.
She also praised our links with the local community and fundraising activities, raising over £8,000 for charity this year and continuing to support two schools and two orphanages in Watamu, Kenya by providing them with educational toys made in Year 9 D&T lessons, clothes and equipment. Once again the Student council organised a very enjoyable Christmas Party for over 70 retired local residents.
Mrs Kilbey summed up by saying "For the students here tonight none of this would have been possible without the support of your families and your teachers and your own incredible hard work, resilience and determination. We are extremely proud of you and I know, that to achieve the results you did, you never gave up when faced with challenges and you pursued excellence."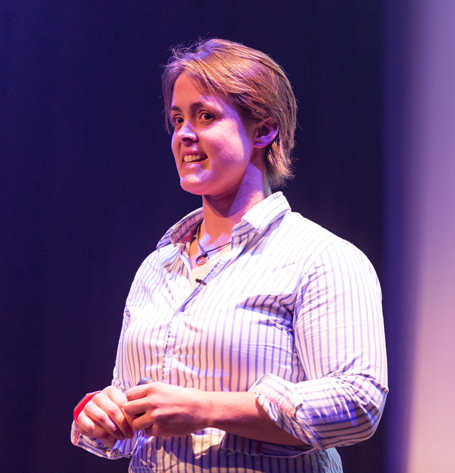 Guest speaker Sarah Outen started her speech by expressing how much she had enjoyed her day with us and how much the school stood out from others she had visited, saying "there is lots of positive energy and practises and I have experienced a real warmth in the school."
Sarah shared stories and experiences of her travels telling the audience "life is a journey of experiences whether chosen or put upon us". She shared videos from her recent travels and talked of the lessons she learned saying 'Don't be held back by the fear of things' and that there was no such thing as a right or wrong decision, just a decision based on what you know. During the hardest times, the roughest seas, she realised that whilst the big picture is there, it is important to focus on the small things. She also encouraged listeners not to be afraid to change course as it can lead to a different adventure. She summed up by talking about the 'A', 'B' and 'C' of life – Attitude, Belief (in yourself) and Courage (to be you).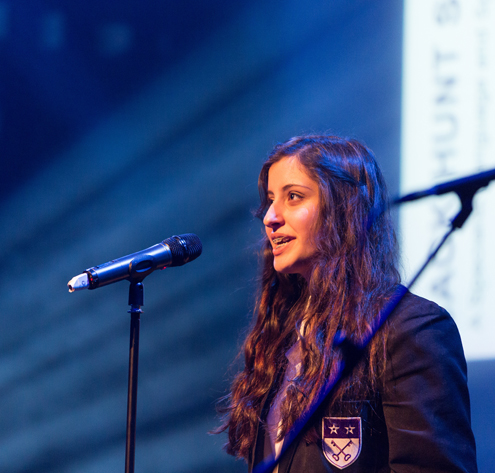 The award presentations were interspersed with fabulous musical performances from Jack Hunt students including the Senior Choir, Tihesia Riley-Bennett accompanied by the Jack Hunt Soul Band, the cast of the 2016 school musical 'Beauty and the Beast' singing 'Be our Guest' led by Josh Bookal as Lumiere the Candlestick. Perhaps the highlight of the evening was an amazing solo of 'Let it Go' performed by Ayesha Patel.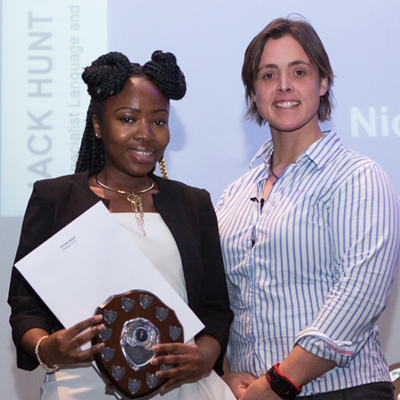 Major award winners of the evening included triple award winner Nicolle Moyowhose awards included the Headteacher's Award, for her hard work, perseverance and dedication, exceeding all expectations to achieve amazing results. Also receiving three awards was Emma Cawston, a talented artist and historian who has far exceeded expectations in both her GCSE and A Level results, showing high levels of enthusiasm, commitment and perseverance. There were also two double award winners, last year's Head Girl Megan Reddy and this year's Head Boy James Newton for their academic success at A level and AS level. One of highlights of the evening was the awarding of the Barker Trophy, shared by two outstanding students, Callum Rockley and Nafeesa Kausar who have overcome health and personal challenges making them both very worthy winners.
There were also a number of sporting awards: Lina Valincuite, Karolina Ramutyte and Kamile Skukauskaite for their contribution to school sport, for attending a wide range of sporting after school clubs, representing the school at a number of competitions and for their continuing enthusiasm and 'have a go' attitude! Following on from her Sports Award Evening success, Edith Prosser was awarded the Sports Award for her amazing achievement of 100% in both theory and practical PE exams, a first for a Jack Hunt student. Jamie Scholes received the Richard McPartlin Trophy for achieving the highest level in competitive sport for his outstanding achievements in the swimming pool this year at local, regional, national and international level – he has won gold, silver and bronze medals at all levels and still remains the fastest swimmer for his age group.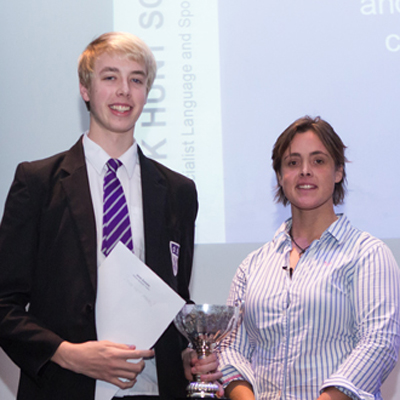 Award winner Nicolle said "The evening was truly memorable. I felt so privileged and appreciated to be recognised for my hard work. Jack Hunt School has been a very influential school that has helped me to grow to be a confident, persevering and determined person that always strives to do her best. My mum was so proud of my achievements, having loved the evening and seeing her that happy was priceless, knowing without this school it wouldn't have happened. I would like to thank all the teachers and my personal tutors that have helped to make this happen. This was truly an evening I will cherish for life." Nicolle's mum said "I am not surprised but am very proud. Nicolle always works so hard and strives to do her best."
The evening was rounded off with the Head Prefects thanking Sarah for her time and inspiration followed by a seasonal performance of 'Winter Wonderland' by our very talented Senior Choir.