A Tale as Old as Time
Live music, exciting choreography, atmospheric lighting, a dramatic set, beautiful costumes, a pyrotechnic or two plus, of course, an energetic, talented group of young performers. The result? Another successful show week for Jack Hunt Musical Theatre Group!
Following a matinee performance to 150 delighted children from Thorpe and Fulbridge Primary schools, this year's musical production, Beauty and the Beast, played for four nights to packed houses. This was the school's nineteenth consecutive annual production, with Friday's show bringing the total of performances to 76 – and enthusiastic acclaim from audience members suggests that it was one of the most loved!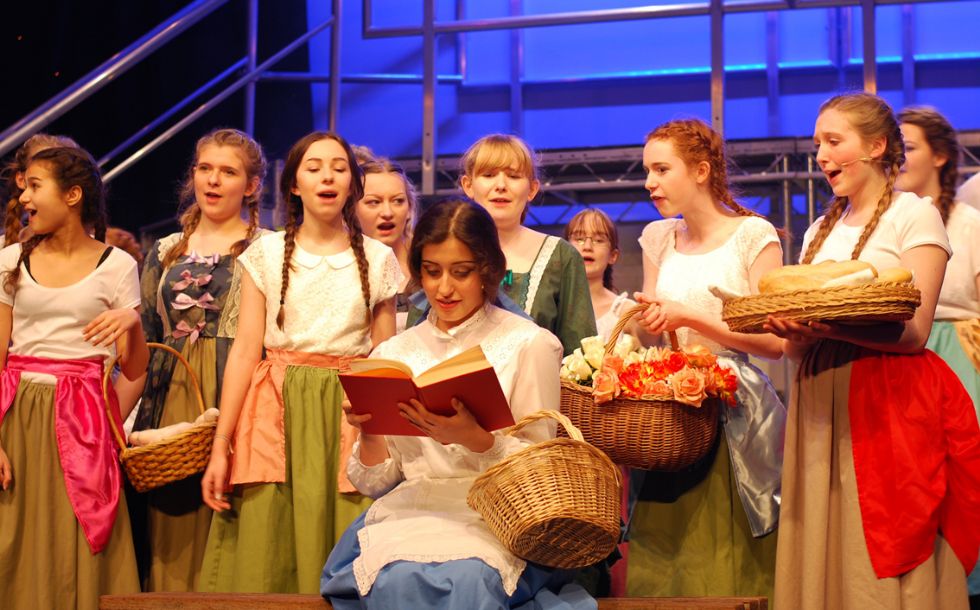 The highly successful 2015 production, Hairspray, was always going to be difficult to follow: the choice of Beauty and the Beast, a narrative with roots stretching back four thousand years, seemed a suitable contrast! The stage version of that dark ancient tale, with music by Alan Menken and lyrics by Howard Ashman and Tim Rice, has been both sanitised and enhanced by the Disney treatment. The plot is simpler, much less gruesome and a lot funnier than many of the earlier accounts. The beautiful, often complex and demanding musical numbers take the story to a whole new level. The technical demands presented the team with a few knotty problems, too.
Through the months of rehearsals, the young cast grew in confidence to meet this enormous challenge. The principals and every member of the ensemble gave of their very best and delighted audiences each night, bringing their energy, enthusiasm, skills and talent together in a run of sparkling performances. Just take a look at the photos in our gallery!
Cast List
Belle - Ayesha Patel
Beast/Prince - Pavandeep Singh Wahiwala
Mrs. Potts - Katy Moore
Gaston - Ben Connolly
Lumière - Josh Bookal
Cogsworth - Justas Oseckis
Chip - Joel Bough
Babette - Sarah Abbs
Madame De La Grande Bouche - Kristy Hughes
Maurice - Raman Dangol
Lefou - Francisco Gomes
Silly Girls - Alice Burbridge, Beth Miller, Alice Tucker, Amara Podd
Petit Lefou - Haydn Pickering
Jacques the Crony - Jack Walker
Monsieur D'Arque - Mr Hayden Gigner
VILLAGERS and MEMBERS OF THE ENCHANTED HOUSEHOLD
Ruby Barnes (Plate &Villager)
Simran Birk (Plate & Villager)
Hannah Bough (Plate & Villager)
Grace Carter (Candlestick & Villager)
Sarah Connolly (Plate & Villager)
Sophie Foreman (Flatware & Villager)
Sapphire Frisby (Plate & Villager)
Lottie Hood (Napkin & Villager)
Freya Irvine (Plate & Villager)
Georgia King (Flatware & Villager)
Kayleigh Lewis (Flatware & Villager)
Katie Metharam (Flatware & Villager)
Martyna Prusak (Flatware & Villager)
Jesika Rai (Napkin & Bookseller)
Emily Toze (Candlestick & Villager)
Jack Walker (Caryatid & Crony)
Amy Wilkinson (Flatware & Villager)
Lauren Zographos (Napkin & Villager)