Jack Hunt Cheerleaders Open Spring County School Games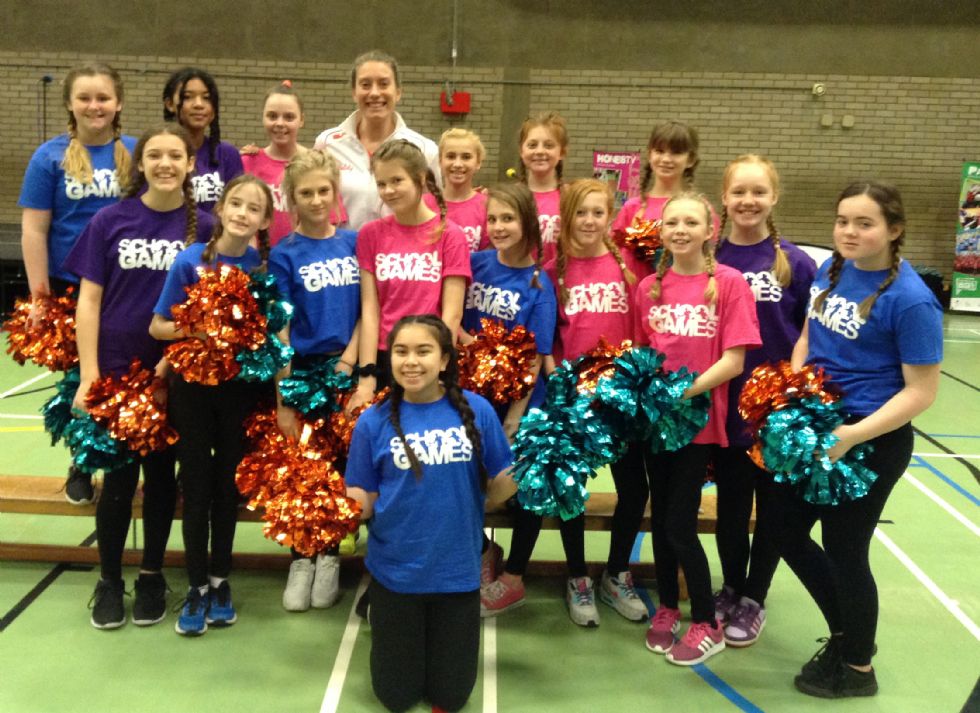 On Thursday 17 March the Jack Hunt Cheerleading team had the honour of performing at the Opening Ceremony of the Spring County School Games. In January we found out that not only were they performing in the Opening Ceremony at the St Ivo Indoor Centre near Cambridge but they were opening the whole event as one of the first acts to perform. They had been nominated following the fantastic job they had done of opening the Jack Hunt Sports Awards Evening back in November.
The audience at the Games was made up of 500 disabled and able-bodied athletes, Young Leaders, members of the local Council, Sports Ambassadors and England Netball star Lindsey Keable (pictured with girls).
As it was such a special occasion the team created a new routine especially for the event and the girls worked really hard practicing twice a week for over 10 weeks, leading up to the event, to perfect the routine. The girls performed extremely well, with beaming smiles and plenty of energy which was commented on by numerous members of the audience. Miss Bracken, PE Teacher said "They were a pleasure to take and did the school very proud. "
The Higher Sports Leaders were also at the St Ivo Centre, having volunteered to assist in the delivery of the AbilityPLUS games at the Spring County School Games. They helped students with varying degrees of disabilities in a range of sports including Polybat, Boccia, New Age Curling, Table Cricket and adapted Netball.
The organisers of the event LivingSport commented, "Thank you for so many of your sports leaders volunteering, their help in motivating the students and running the events is invaluable and really make the running of the games an exciting opportunity for the students. Without their help we would struggle to run these events."