Action Packed Day for Sports Relief!
Friday 18 March began with many students arriving in their PE Kit and very kindly donating £1 for the privilege. Throughout the day the inter-house Rowathon took place, there were £1 sporting challenges and Staff vs Sixth Form volleyball, all to raise money for Sport relief 2016!
The all-day inter-house rowathon took place in the gym with students in each year competed in houses, completing 50 minutes of rowing as a team, aiming to travel the furthest overall distance. Sports Reps and Young Ambassadors from each House were on hand to support the younger students, acting as motivators and organisers. There was an excellent team spirit and a determination to beat the other houses was clear to see! Our Heads of House and House Staff also took part, adding valuable kilometres to the final House scores!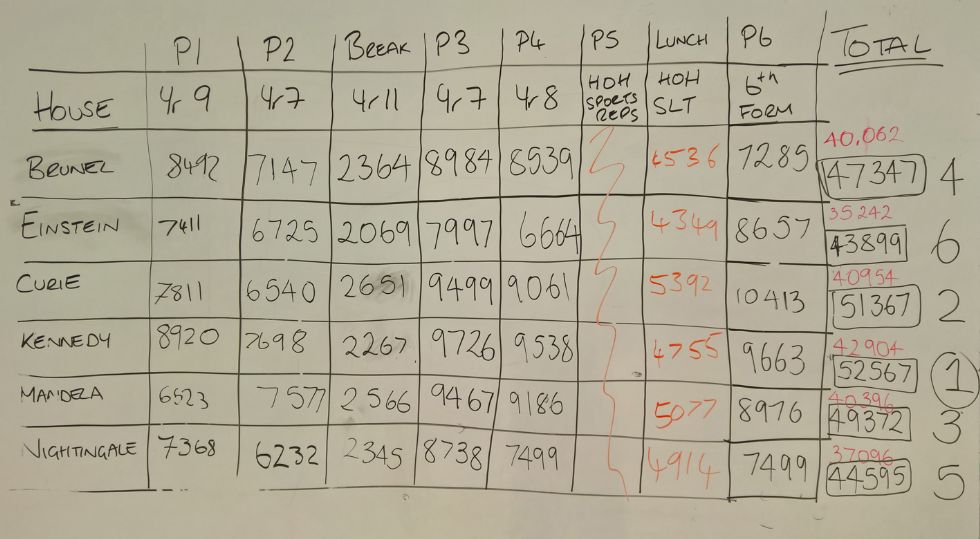 Overall the students rowed over 180 miles in 36 hours! The overall winners were Kennedy with 52,567 metres (winning 10 house points for each student) closely followed by Curie who rowed 51,367 metres (8 points per student) and Mandela with 49,372 metres (6 points per student). Well done to everyone who took part, and the Sports Reps for organising the event!
During lunch the Higher Sports Leaders organised a range of £1 challenges including the Crossbar challenge, a 30-second basketball shoot-out and roll-a-£1 challenge. In each of the challenges the students were trying to win an Easter Egg for the best score!
The day was rounded off with the annual Staff vs Sixth Form volleyball match. The much anticipated re-match was given lots of hype by the Sixth Form students who were looking to avenge their 3-0 defeat earlier in the year. Some excellent rallies and great blocking from the Sixth Form team resulted in a much tighter game, however, a number of outstanding shots from Mr Rasib ensured a 2-1 victory for the staff!
Well done to everyone involved for being outstanding 'Good Sports' for such a worthy cause! And, for raising over £500 on the day.