Skip to Rio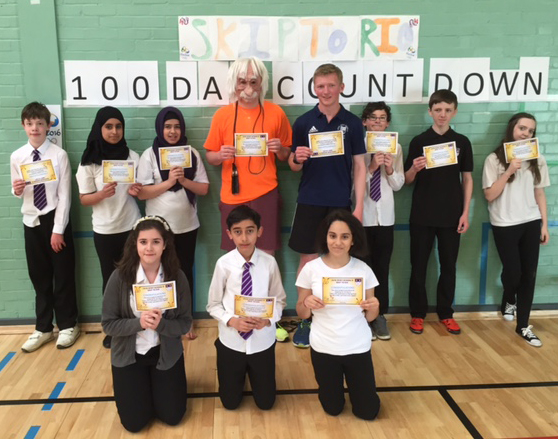 Wednesday 27 April marked the start of the 100 day countdown to the Rio Olympics. To celebrate and encourage students to challenge themselves, Mr McCauley and Mr Braby in the PE Department organised the 'Skip to Rio' event. Students and staff skipped in 15 minute segments throughout the day with one of the highlights being the appearance of Mr Manning, Student Support Officer for Einstein skipping wearing a mask of the famous professor who gave their house its name.
The students had volunteered to take part through their Form Tutors and skipped in house groups to the 'Rocky' theme. Organiser, Mr McCauley said "We managed to skip for 16 hours and 5 minutes. Everyone who contributed did a fantastic job and showed a fighting spirit, meaning we got to Rio and two thirds of the way back."
Don't forget that as part of the 'Race-2-Rio' initiative students can also earn house point this term by attending clubs in school.