Holocaust Survivor Captivates Year 10 Students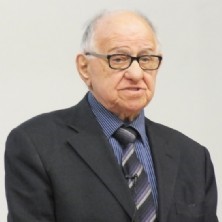 Holocaust Survivor and one of the school's favourite visitors Zigi Shipper, shared his experiences growing up during World War II with a rapt audience of Year 10 students.
On Friday 29 April, Holocaust Survivor, Zigi Shipper visited Jack Hunt to share his experiences of living through the Holocaust in Poland and Germany during World War II. Zigi who works with the Holocaust Education Trust has once again inspired our students with his strong messages. He started his talk by saying "There is not much we can do about the past but we CAN change the future and the young are the most important generation who can do this."
Zigi shared the very moving and powerful story of his childhood, living with his grandparents in the second largest city in Poland as an Orthodox Jew. He spoke of how as soon as the Germans arrived in the city everything changed – Jewish children could not go to school, Jewish teachers could not teach, no Jewish professional was allowed to practise; doctors, lawyers and accountants. He went on to describe life in the ghetto where 260,000 Jews lived in the space for 20,000. Starvation and disease were the biggest killers – they were surrounded by death – "it completely dehumanised us, we did things just to survive". At ten and half years old he got a job in a metal factory working a 6-day week, so he could get a ration card - so he could eat as only workers got ration cards. He lived in the ghetto from 1940 to the summer of 1944 when they liquidated the ghetto and started moving people to the extermination camps of Auschwitz-Birkenau.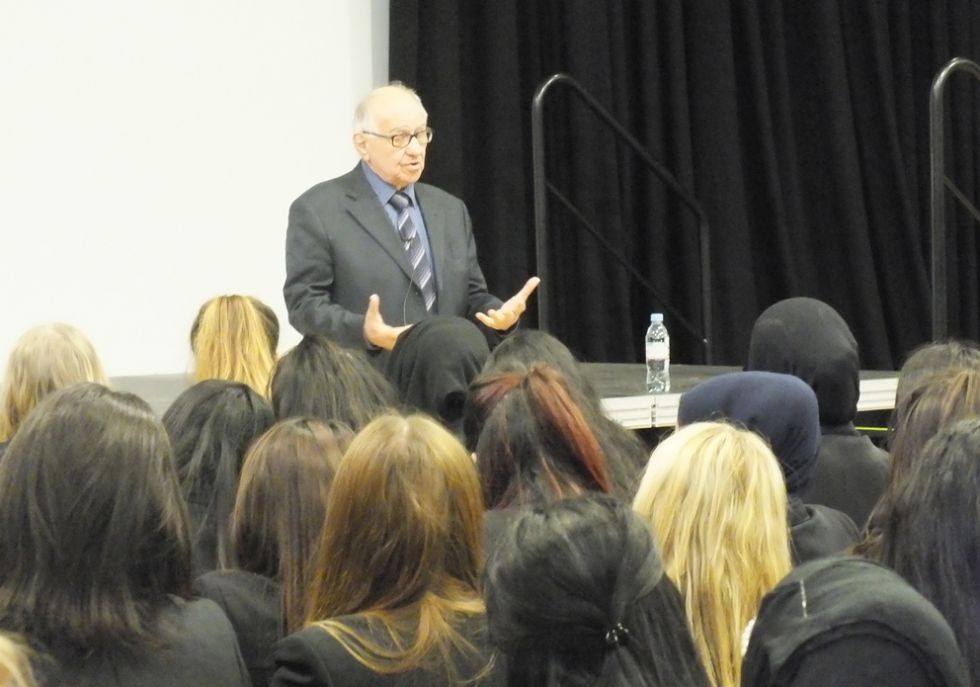 He chose to go with the people from the metal factory as they were promised more food, clothing, everything. They were packed into cattle trucks – again he said it was a 'completely dehumanising' experience. Once they arrived at Birkenau they went through a selection process – all disabled, old, women and babies were separated – some were sent to the gas chambers and some sent to the hospital where the now infamous, Dr Josef Mengele was based.
This has left such an imprint on Zigi that even today he asks himself "how can a human being do that, then sit down with their family and listen to music – they must have been thugs but they were doctors, lawyers and accountants – and they lived with their families so close to the camp. I can't understand why we had to suffer before they killed us."
Zigi went on to describe where he worked and lived for the next year in freezing conditions, with no food despite working every day on the railway line. Throughout his presentation he kept referring to the times he was lucky and how throughout his ordeals, apart from when he was in the freezing labour camp, he never thought he was going to die!
By the time the British Army liberated them in May 1945, Zigi was very ill but refused to go to the hospital because of the fear brought on by the experiences of Auschwitz. He found out he had contracted the killer disease Typhus, so he agreed to go to hospital where a German nurse helped him. He was then sent to London to be reunited with his mother which initially left him bereft because his family had become the boys he had lived and worked with over the past 5 years.
Zigi said "I have been lucky and had such a privileged life being able to talk to students and young people about my experiences. You are our future – that is why I do what I do!" He went to explain "It wasn't just Jews in the camps but gypsies, priests as well as gays and the prisoners of war.
He has only two regrets. His grandmother died on the day of liberation so never saw a day of freedom and, he never found out what happened to his father after he returned to Poland – it is like he never existed.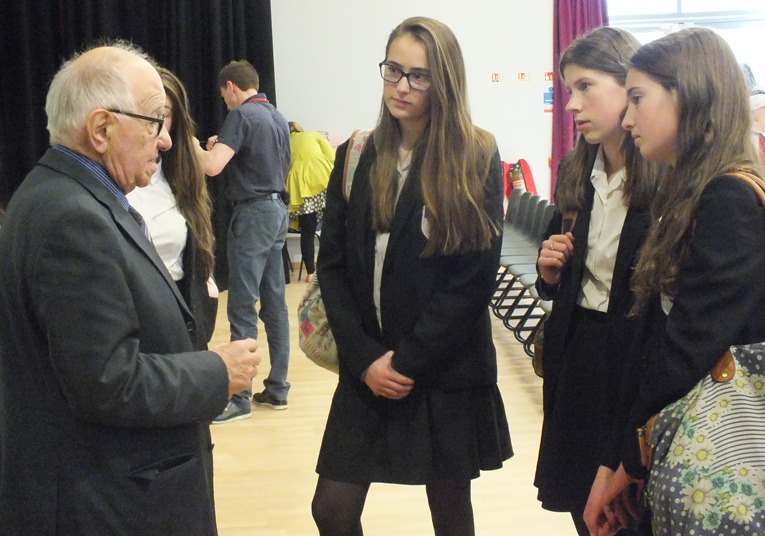 He shared some very powerful messages with the students "Please don't Hate! As hate will ruin your life." He went on "It doesn't matter what religion we are, we are all nothing else but human – it is just a religion." The second was "Never give up, never lose hope, things may be hard but no matter how hard it is, it will get better and it does." As he has got older he has asked the question "Why do we always blame God for the things we do. Just going to a house of God does not make you a good person, you have to do more than that – it is in the things you do every day, thinking and helping others."
Zigi then answered many questions from his student audience who had listened in rapt silence for over an hour. Before finishing he emphasised that although you can read, watch a film or listen to the stories about the Holocaust there is nothing like seeing it for yourself. He encouraged the students to take the opportunity to visit Auschwitz-Birkenau and this view is very much shared by our Year 12 students who have been involved with the "Lessons from Auschwitz Project", Sarah Abbs and Thomas Miller, who recently visited the camp.
Sarah said "Being involved in the trip was a unique experience that I will never forget. Before I went I got told hearing is different to seeing, and they were right! Visiting Auschwitz I saw the proof of hell that happened during 1939-45. The one thing I will take from this experience is to not hate because hate causes events that are inhumane and to share the message about not hating, but to be kind and not judge others."
Thomas said "This Project has given me an absolutely fantastic opportunity to gain a more in-depth knowledge of the Holocaust, as well as pre-war Jewish life. It was an honour to hear survivors such as Rudi Oppenheimer, and Zigi Shipper speak about their experiences and this really helped when we visited Auschwitz-Birkeneau. I have been provided with invaluable knowledge of the Holocaust, and I will undoubtedly work to raise awareness and increase people's understanding."
Miss Darlington who organised the visit said "It was an honour to welcome Holocaust Survivor, Zigi Shipper, to Jack Hunt School. His powerful and emotional, but also inspirational testimony had both students and staff captivated from start to finish. It is important to educate students about the holocaust, ensuring it is never forgotten, so that we can always learn from the lessons of the Holocaust."