Bouncing High in the Pink Kangaroo Maths Challenge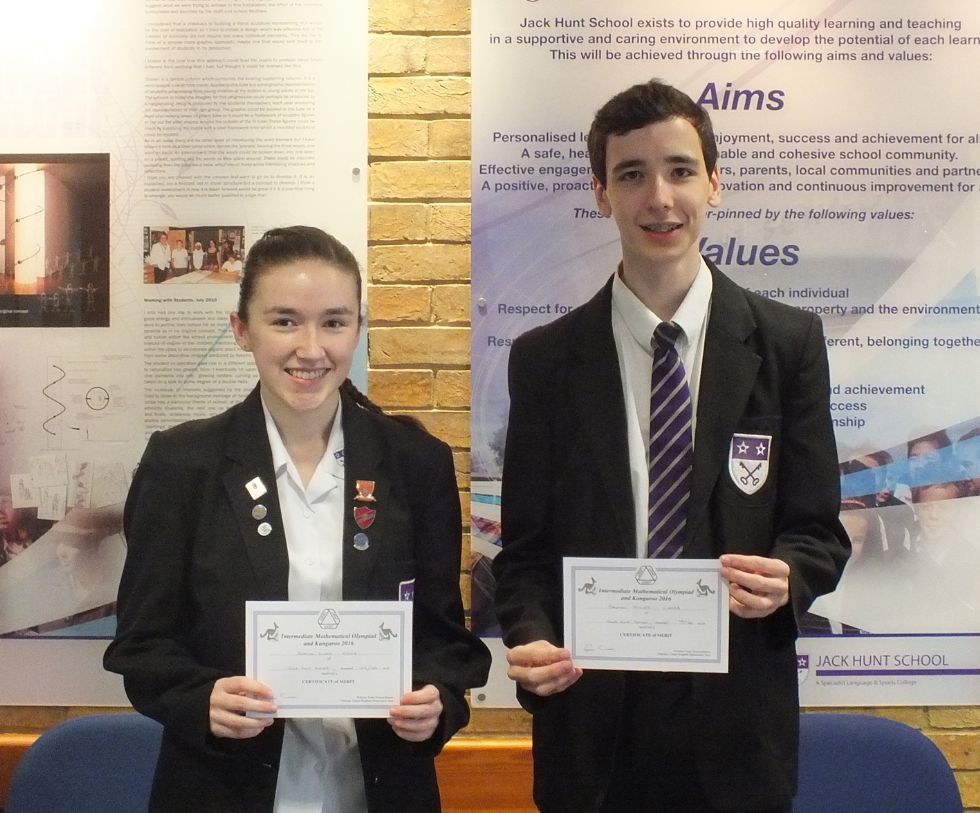 Following their success in the national Intermediate Maths Challenge earlier this year, achieving some of the highest scores in the country, four Year 11 students, Jessica Lines, Stephen Miller, Wilson Wang and Freddie Evans took part in the annual International challenge.
The Pink Kangaroo Maths Challenge is an international competition (with the goal of promoting maths worldwide. with over 6 million year 9-11 students from 50 countries taking part. So when our students sit the Kangaroo they are part of a huge community of maths students. The Kangaroo (an hour long multiple choice paper) is used by the UK Maths Trust as an extension to the UK Intermediate Challenge.
All the students performed very well but Jessica Lines and Stephen Miller (pictured) were outstanding, achieving not only a Best in Year Award but also the Top Award of Merit (only awarded to the top 25%) in the International Challenge as a Pink Kangaroo with Jessica scoring 102 and Stephen 95 out of a possible 135. The competition is very tough and the top score in the world was 130 achieved by one student. Wilson Wang got close to the top award and Freddie Evans did very well to qualify for the International Competition.
When presenting the students with their certificates, Mrs Sharman, Deputy Head of Maths, said "If this looks and sounds like the Oscars I make no apology as it is about time we 'bigged' up Jack Hunt mathematical achievements. These four students are amongst the highest achievers in the country and we are very proud of their success."
Well done to all the students that took part both in the UK and International Challenge.