Annual Senior Citizens Party
The Senior Citizen's Christmas Party was held at Jack Hunt School on Wednesday 16 December 2009. The annual event was a huge success and over 50 guests from the local community attended with some guests being collected by mini-bus from their homes.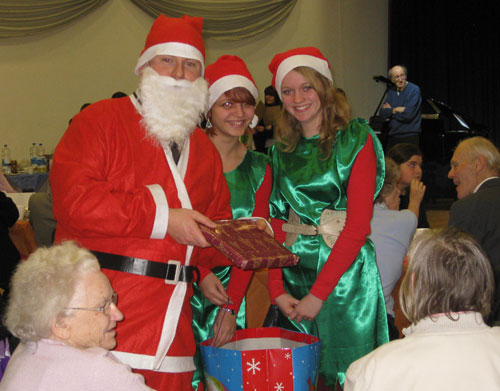 A buffet was provided including sherry and chocolate log served by the students with a visit from Santa who had a gift for everyone. Entertainment comprised of Festive Songs from the School Choir and a sample of songs from The Jack Hunt Musical Theatre Group's upcoming production of "My Fair Lady", (being shown in February 2010), the Junior Orchestra and the popular Bingo! The Senior Citizens also won prizes in a raffle.
One lady and gentleman commented on how much they had enjoyed the event this year and that it was their second year of attending and that they were already looking forward to next year's party: Other comments included, "It's so lovely to meet some of the students at the school. We've had a fantastic time".
This year again the students took on the event organiser roles, the serving and hospitality and the presenting duties, planning the day, preparing the refreshments and running the bingo.
Each year the students and staff taking part in the event say how much they have enjoyed the day and the students in particular always comment on how they liked talking to and spending time with the Senior Citizens.