Sweet Paradise
Year 13 Applied Business Students visited St Neots recently as part of their Managing Promotions Coursework. The students met Sue Chiverton who is the owner of Sweet Paradise, an independent shop based in the centre of the town.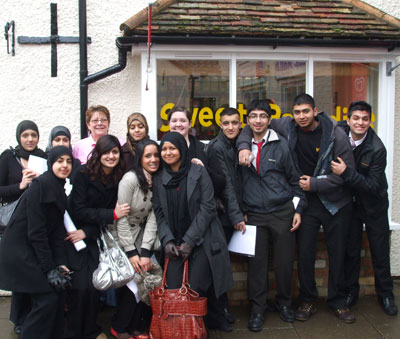 Students were able to speak with Sue, and learn how her business is performing in the recession. They also found out what methods of promotion she currently uses. Then based on this information, the students have been challenged to devise a promotion campaign on behalf of the business, with the aims of increasing customer awareness and improving the businesses profitability.
Trip organiser Mr Cook commented "the student's thoroughly enjoyed their time in St Neots and are very grateful to Sue for her time. It is great to base a piece of coursework around a real business, and solve a real life problem. Each student has a budget of £2,000 and must think very carefully about how they are going to spend this money and get the most out of their promotional campaign."
Sue Chiverton commented on how impressed she was with the attitudes of the students and that they were a credit to Jack Hunt School