Regarde! Trip at The Courtauld Gallery
On February 23rd a group of A level students from Jack Hunt, Thomas Deacon, Kings and St John Fisher visited the Courtauld Gallery in London, funded by Jack Hunt Language College.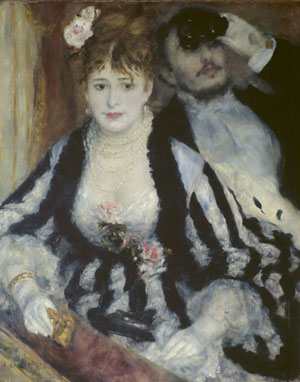 The students got to learn about French Impressionism, and got to view an impressive collection of paintings. The workshop, which was in French only, concentrated on history of art and on a few key paintings by masters. The students got involved in activities such as painting commentaries, designing posters, imagining conversations as well as many others.
The staff at the gallery were massively impressed by the standard of French of our students, their levels of concentration and mature attitude. It was the first time our host had managed to conduct a visit using French only, and she was positively gobsmacked!
The students thoroughly enjoyed the workshop (and the spot of shopping in Covent Garden!), and felt it was very useful to them and their studies.
La Loge by Pierre-Auguste Renoir, 1874
Picture courtesy of http://www.courtauld.ac.uk/publicprogrammes/regarde.shtml