Shine Quiz 14 July 2010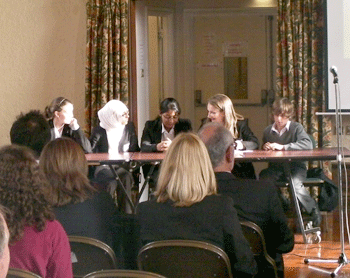 On Wednesday 14th July 2010 Jack Hunt School faced Orton Longueville in a battle of brains at the Town Hall. Each school had held inter house rounds to find the best quiz team and in the final the two Brunel houses faced each other.
The evening began with a fantastic senior choir performance of 'You raise me up' and 'Somewhere over the rainbow' which set a lovely tone for events and was followed by a innovative drama performance from OLS students. The students showed a high level of talent and appreciated the opportunity to show parents and staff their work.
The main quiz began with 4 rounds of difficult questions on anything from ICT and who invented the world wide web, to Modern Foreign Languages and the person that uttered the famous words 'Ich bin ein Berliner'. Despite the puzzled faces of most of the audience, the students fared well and used their general knowledge reserves to work their way through an evenly matched first half. The schools were separated by one point at the interval. The first half finished with a dance performance that showed the high commitment of the OLS students who went ahead despite missing members. They showcased some difficult moves and provided a excellent conclusion of the initial rounds of questions.
After feeding their brains with the winning recipe in the OLS flapjack competition the quiz teams reconvened to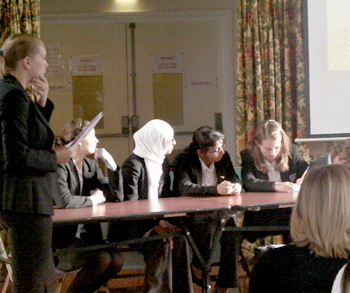 complete the picture round and the audience was treated to a modern version of Little Red Riding Hood, with a very convincing wolf who left the front row quite frightened! The next round of questions really tested both quiz teams and OLS pulled ahead to a four point lead, but through a strong picture round and an excellent knowledge of food technology the JHS students responded to draw level overall. A tie break question was provided by the audience asking the students to estimate the largest ever world cup football match attendance (familiar to those who took part in the staff quiz). With a good guess of 120,000 the Jack Hunt students proved victorious and were the proud winners of the first Inter School Quiz competition.
A big thank you to all those that helped organise the event including Zoe Paul at Orton Longueville who was co planner, the Brunel House team, James Crawley as well as the Music and Drama departments. However a special thank you to the students who represented the school and showcased their abilities.