Pledge Against Prejudice ''All Hands On Deck''
Over the past couple of months, History Teacher & Restorative Trainer, Ian Davison from Jack Hunt School and two Year 12 students, Sam Tuck and Ayisha Mahmood have been involved in the National Programme "Lessons from Auschwitz". Following on from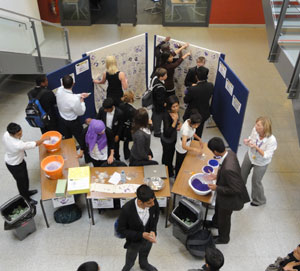 this, we at Jack Hunt School decided to make a Pledge Against Prejudice and in an effort to raise awareness and funds for all those suffering due to prejudicial views we have united both our school and the wider community in showing our support through producing a hand printed banner and we are grateful to John Lewis for kindly donating the materials to enable us to do this.
'All Hands on Deck' took place on Monday 12 July 2010 at the School. The stand was open from 9:00 am in the morning until just after 6:00 pm that evening and everyone was invited to show their commitment by printing their handprint, their signature and if possible a small donation. So far over 700 handprints have been collected and over £200 in donations.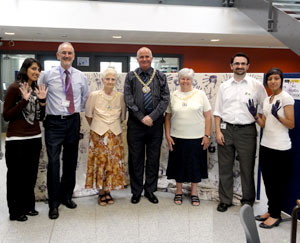 All monies raised will be donated to the Aegis Trust – a volunteer organisation that works with those who have suffered as a result of prejudice and genocide, both abroad and at home. We hoped to collect as many handprints and signatures from as many members of the Peterborough community as were possible in the time we had.
Whilst this is an extremely simple idea it has the potential to communicate a very powerful message. The banner will be a fantastically visual sign of the commitment of the Peterborough community towards ending prejudice and discrimination and it will also form the backdrop to our future events in December and next summer.
We are very grateful to the Mayor, Councillor Keith Sharp, Mayoress, Mrs Doris Marchant and Deputy Mayor, Councillor Bella Saltmarsh for taking the time to show their support along with community leaders, members of the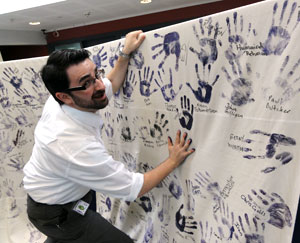 County Council, representatives from the Police, Peterborough Football Club and the local community in general.
We will be continuing to collect handprints on Monday 19 July when Zigi Shipper a Holocaust Survivor, returns to Jack Hunt to give his testimony to Year 10 and on the 23 July on the last day of term as part of the "Big Finish".
Ian Davison said, "I started off the day worried we had too much material, but before we were even three quarters of the way through the day, we had to contact John Lewis again and ask for more. I would like to thank everyone who took the time and consideration to help the school, and to help Peterborough on this journey."