Society Health & Development Day ''The Accident''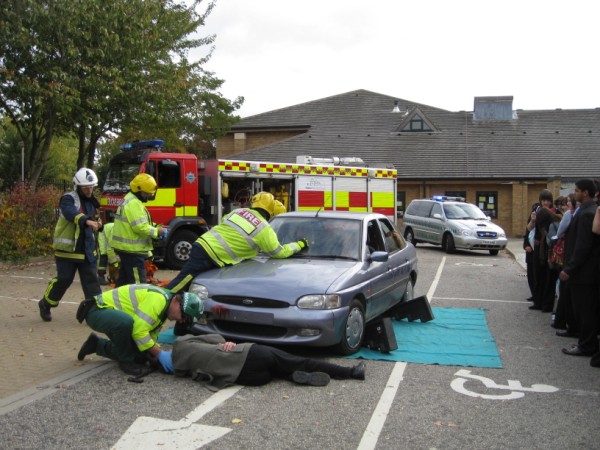 October 1st 2009 saw Jack Hunt School play host to the first ever Society Health & Development 'Team Peterborough' Diploma Day. Over 75 students from schools and colleges across Peterborough came together to witness the emergency services in action. 'The Accident' scenario organised by 'The Britten Partnership' and sponsored by Aimhigher, Health Skills East and NHS East England provided an opportunity for students to observe the collaboration, skills, equipment and professionalism of the fire, ambulance and police services when dealing with a car crash.
Peterborough Regional College provided Drama students who played the roles of the casualties and their Media and Makeup Department provided very realistic looking injuries, which in turn contributed overall to a very convincing accident scene.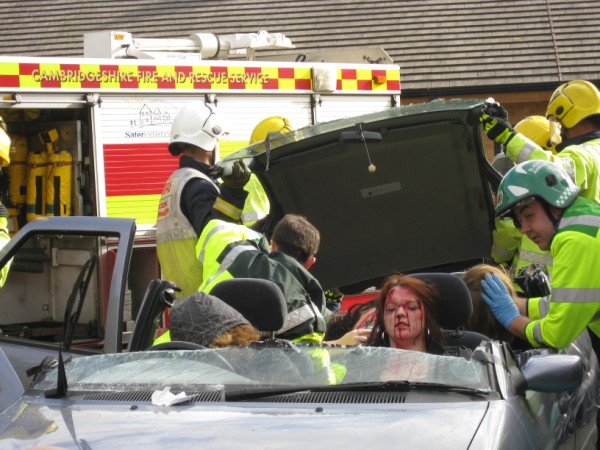 Students were then able to take part in workshops facilitated by staff from Health, Care, and Youth Offending Teams alongside the Police, Fire and Ambulance Services to discuss the ongoing care needs of the victims and the consequences of reckless driving.
The Society Health & Development Diploma Day was an outstanding success and feedback from students was extremely positive. The day was a result of a collaborative activity by Orminston Bushfield Academy, The Voyager School, Peterborough Regional College and Jack Hunt School; it was the first of what will be a series of work related experiences that students can access. It heralds a new and exciting learning experience which brings teaching alive and makes it more relevant.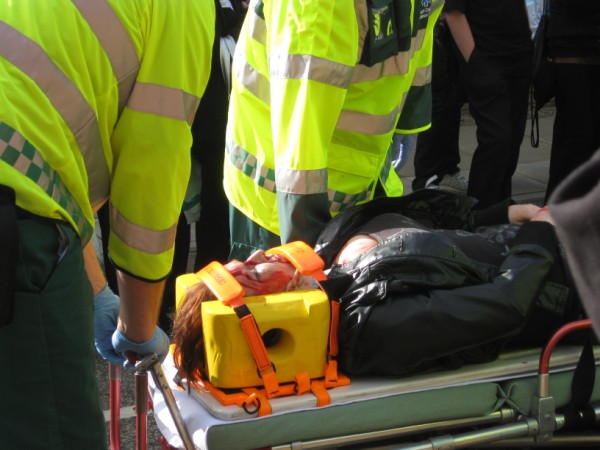 The Society Health and Development Diploma signals the launch of a range of Diploma qualifications available at Jack Hunt School as part of the 'Team Peterborough' consortium of schools and colleges. The new Diploma provides our students with a wider choice of academic qualifications.
Christine Collins, Society Health & Development Teacher said, "I would like to say a special thank you, to all staff, visitors and of course our students who made this a day to remember."