British Championship Success - 2008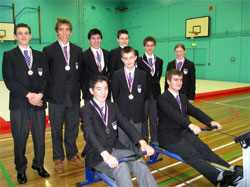 Our rowing students have again excelled at the British Indoor Rowing Championships held at the National Indoor Arena in Birmingham. These championships involved some of the worlds best indoor and outdoor rowing competitors and pitches them in headtohead competition for all to enjoy. The dedication and athleticism of the competitors is very inspiring. During the day athletes compete in individual and team races to determine the British Champions.
Jack Hunt School students won an excellent 9 medals in the 2006 competition, but this year exceeded all expectation by winning an amazing 12 medals. Lets hope they continue to train hard and build upon this success in future indoor and outdoor competitions. The following athletes deserve all the praise they receive.
James Fox: J16 Individual Silver Medallist
James Marshall, Matthew Hart, Matthew Newton, Chris De Freitas: J12 Team Gold Medallists
Tom Chung, Oli Salonna, Sam Tuck, Ed Rippon: J16 Team Gold Medallists
Aaron Taylor, George Chung: Part of J15 Silver Medal Team
Meghan Lawless: Part of J13 (Girls) Silver Medal Team
Steven Nuzzo: Part of J13 (Boys) Bronze Medal Team.