Britain's First Obama - December 2008
Year 13 student, Furhaan Altaf came runner up for the Cambridgeshire Young Person of the Year Award, the finals of which took place in Cambridge on 4 December 2008.
Furhaan was nominated by his friends for this prestigious aw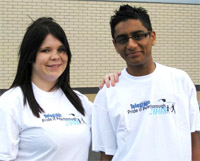 ard because of his commitment and accomplishments in both his charity work and local politics. In his spare time he works for the Samaritans and as a Befriender for Age Concern. He has been invited to become part of the Young Muslim Advisory Group which will involve setting up a conference in Peterborough to address issues such as extremism whilst also currently serving as Deputy Youth MP for Peterborough, which includes sitting on the Environment Sub Group and is a panel member for the Youth Bank. Furhaan will be running for election in February and whilst concentrating on his 'A' Level studies at school, he is also a House Leader for Nightingale House and Mentor to a Year 8 student. Furhaan has also been nominated for the Evening Telegraph's Pride of Peterborough Award – Young Person of the Year. Michelle McGrath who nominated Furhaan said "Furhaan has done so much and puts himself before others, but he is very modest and I wanted him to be recognised for everything that he does".
Furhaan recently attended the Circle of Influence Conference in London on behalf of the UK Youth Parliament and was interviewed by a German TV show, making a special report about Ethnic minorities becoming leaders in nonethnic countries, along with Nick Clegg, Leader of the Liberal Democrats. When Furhaan was asked if the UK would have their own Barack Obama in the future, he replied that he would be the next Barack Obama.
When asked why he was so involved in politics at such an early age Furhaan said "I believe in making
a positive change".
Outside politics and voluntary work Furhaan is interested in a career in the medical profession as a radiographer, but ultimately would like to further his political career and has plenty of ambition to get to the top as Prime Minister!