Whoopee Cushion Orchestra - March 2009
Twenty Jack Hunt students and four staff went to Queensgate to
take part in the Whoopee Cushion Orchestra organised by BBC Radio Cambridgeshire as part of the BBC Comic Relief Day.
The music chosen was Johann Strauss's Radetzky March and the students had a few minutes practice before the live event which saw the BBC Orchestra on a screen and all the students, plus camera and radio crews around it with crowds of people watching them.
The live broadcast went very well with the 'music' complimenting the famous orchestra and some said impr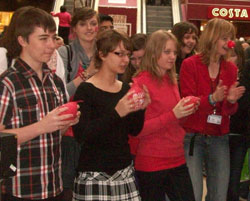 oving it !
The BBC Radio Cambridgeshire DJ said very positive and nice things about all the students and Jack Hunt School saying they were a credit to the school and showing that young people today were not bad as often portrayed in the media.
The students also helped in the waxing of a Radio Cambridgeshire DJ's Legs by their verbal encouragement of the activity.
The broadcast was aired live on the Radio, there are pictures and recordings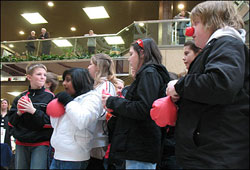 of the event on the play back facility of BBC Radio Cambridgeshire.
Back at school students took part in a Non – School Uniform day to show their support for Comic Relief by wearing Red and giving a donation of £1. Along with individual activities in school, over £1,500 was raised.