Travel Safe To School Competition - March 2009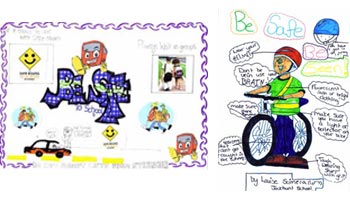 Ecovert FM recently launched a Design a Poster Competition. The theme of the poster was "Travel Safe to School" which included three categories, walking, cycling or travelling to school by bus. The competition was open to students in Years 7, 8 and 9 at The Voyager, Ken Stimpson and Jack Hunt.
Prizes were judged across all three schools by poster theme and the top three designs in each category have be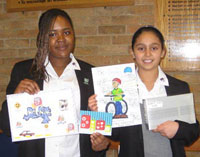 en awarded a Sony Ericsson Mobile Phone and the runners up received a £30 Argos voucher.
The winner from Jack Hunt was Year 7 student Louise Scimeca who designed a poster in the "Cycling to School" category and runner up was Year 9 student Geraldine Mkwidza who designed a poster in the "Walking to School" category.All the winners attended an award ceremony at Ken Stimpson where they were presented with their prizes and all entries received a £10 Argos voucher.