Jack Hunt Nominated by "The Tree Appeal" - March 2009
Jack Hunt School has had six trees donated by "The Tree Appeal" as part of their programme to promote biodiversity, create habitats and improve the environment for people. Their mission is to make a greener world and a better life for all and the trees are paid for by donations from businesses who want to make a positive commitment to the environment. Supporters of The Tree Appeal include DEFRA and Professor David Bellamy.
The six trees of different varieties including English Oak, Ash, Silver Birch, Lime and Hazel were planted on Monday 23 March 2009 by Edd Terran, Creative Director of School House Design & Film Studios who is a member of "The Tree Appeal" and who nominated Jack Hunt to receive the trees as part of their Trees for Schools Programme.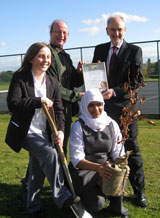 A certificate was presented to Roy Duncan, Headteacher and students Eman Wahid and Jo Ann Lee who are both Eco-Representatives for their Tutor Groups by Edd Terran on behalf of the "The Tree Appeal".
"The Tree Appeal" are aware that responsible organisations are already doing what they can to help the environment - recycling, reducing waste, reducing energy use but they can help to take a step further by making a positive contribution to natural woodland habitats - both locally and nationally.
Roy Duncan said "We were very pleased to be nominated to receive the trees. This helps us in our drive to become a more eco-friendly school and to improve the school landscape for our students."
Photo – Left to right Jo-Ann Lee (Year 10), Eman Wahid (Year 9), Edd Terran, Creative Director of School House Studios and Roy Duncan, Headteacher, Jack Hunt School.