Jack Hunt School Bangs the Bhangra Beat - March 2009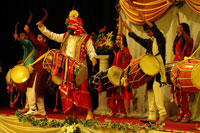 Jack Hunt School recently hosted its second, very successful Bhangra Night where students from local schools attended to be part of the wonderful array of performances making it a memorable evening for all those who attended.
The work the Jack Hunt has done in strengthening ties with parents and the community has been recognised by the DCSF who have awarded the school the prestigious Leading Parent Partnership Award. As part of the evening, Dr James Deboo, OBE, presented the award to the sch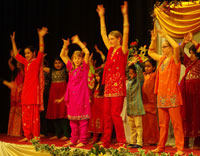 ool.
Throughout the evening, Bhangra Dancing, live music on the Harmonium and Tabla and the thundering sounds of the Punjabi Dhol Drum played to an audience of over 250 people. Satwinder Singh- Suali, (Bhangra Beat) provided an exciting display of Gatka, (Sikh martial arts) with his sword dancing and led the students in dance and music. Performers from the Jack Hunt Theatre and Dance Academy treated the audience to a song from their forthcoming show at the Cresset.
All enjoyed the community, family atmosphere this fantastic evening provided and the audience ranged from Jack Hunt School staff, students, children and staff from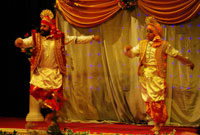 other schools and families and friends from the community.
Pamela Kilbey, Deputy Headteacher said, "We are really proud of achieving the LPPA Award and our Bhangra Evening was highlighted by the Award Assessors as one of the outstanding parent and community events that the school hosts throughout the year".