A Level Results 2009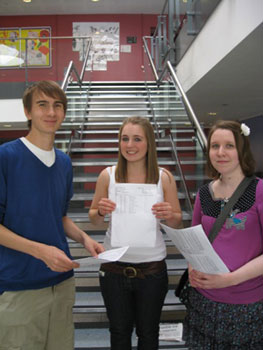 Staff and students are delighted with A Level results again this year.
Notable successes were Leena Pankhania who achieved 4 passes at Grade A, Michael Middleton who gained 3 passes at Grade A and two at Grade B and Andrew King, Zoe D'Arcy and Jessica Stanley James who each achieved 3 passes at Grade A and one at Grade B.
Other high achieving students were Jonathan Phelps, Jordan Turner, Danielle Adams and James Kenny who achieved 2 passes at Grade A and 2 at Grade B. Rehanna Yousaf, Grace Dolan, Laura Arundell and Karim Mohammed Abbas also achieved 2 passes at Grade A and 1 at Grade B.
Roy Duncan, Headteacher, said "We are very pleased with the improved pass rate of 98% this year. These are excellent results for our students who have worked extremely hard with the support of staff and parents. They deserve this success. We are very proud of them. The vast majority of students have the grades to access their first choice University or chosen employment".